Kitchen Dresser and Jerusalem Artichoke Soup…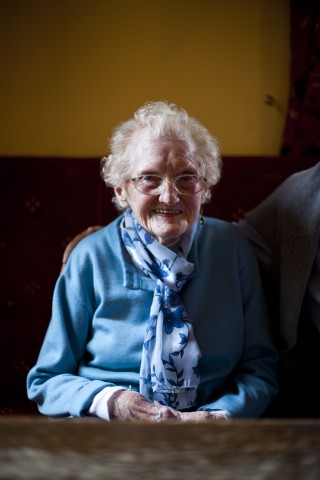 Let me introduce you to Pearl Skehan, my grandad's cousin, from Co. Tipperary, 97 years young and the inspiration for my kitchen dresser pictured at the top of this post.  Pearl has always been a bit of a dynamo and has us in stitches with stories of times gone by.  I was visiting Pearl last year and was reminded of the fantastic old kitchen dresser she has in her kitchen.  Mint green all over with pale yellow shelves and knobs, and a beautiful old collection of plates, which are her prized possessions.  All last year I was on a mission to try and find something similar for our cottage.  During the summer I got a text from Sharon Hearne Smith with an image attached of a sweet little vanilla yellow, kitchen cabinet/dresser she had seen at Herman Wilkinson auction house in Dublin.  I knew it was the one.  Some fairly nerve wracking bidding took place the following day, I won with a bid of €100 and that was that, she was coming home with us!  On closer inspection, the dresser was sticky with dirt and the shelves had been covered with a horrible red plastic- that was first to go.  After a lot back and forth, sanding and painting we finally decided on a vintage blue colour with yellow shelves.  My two favourite features however are both gifts from Pearl, vintage wallpaper from her house, which I used to line the back of the cabinet and the photo of my great grandmother Molly which now sits pride of place on the second shelf.  Both complete this kitchen dresser story perfectly.
A couple of weeks ago Kristen from Edible Ireland sent me a link to a very special short film she had seen online and said it had reminded her of our dresser.  It's a quirky stop-go motion film all about Irish folk furniture which has gone on to win best animation at the Sundance Film Festival.  Shot on a €150 camera by Tony O'Donoghue all funnily enough in Co. Tipperary it makes for sweet viewing…
I'm finally coming to the end of my vegetables from last years growing season and all that's left to do is harvest the Jerusalem artichokes.  Their tall leafy stalks took over my back raised bed from the late summer onwards like a mini rain forest and even prevented me cutting the grass around them. Now all that's left are the rather unsightly stumps and the big plump and knobbly vegetables beneath the earth.

From the four little stalks I planted three years ago, the patch has grown rapidly and now produces a huge amount of the little guys, so much so, I have had to start giving them away as I just can't get through them.  Roasted, pan fried or shaved raw in salads, they have plenty of uses in the kitchen.  I particularly love the distinct sweet and earthy taste they have.  Not so fondly nicknamed 'fartichokes', they do tend to have a particular effect on people's bowels which seems to be unavoidable.
I predictably made a soup with them this week, which tends to be my first recipe to call upon, when using up vegetables.  But predictability aside, it is a very simple soup to prepare and quite delicious.  However it's creamy white colour is not that aesthetically pleasing, so I served mine drizzled with some freshly made rocket pesto, which compliments it quite pleasingly.  You should be able to find Jerusalem artichokes in shops at the moment, as they are in season and if you do, this recipe is a good starting point for them…
Continue to the recipe for Jerusalem artichoke soup with rocket pesto…