Pink Pearl Soup and a late start to the New Year!
The floors have been swept, hoovered and washed, the kitchen has been bombed, blitzed and scrubbed and we are just about back to some sort of sense of normality after the TV series shoot.  While everyone else was getting into the swing of New Years resolutions, diets and spring cleans, I had my hands full so didn't exactly start the year with the same as I normally do, full of plans and projects.  I hate to be late to the party but this week, slightly behind schedule, I've been busy planning for 2011!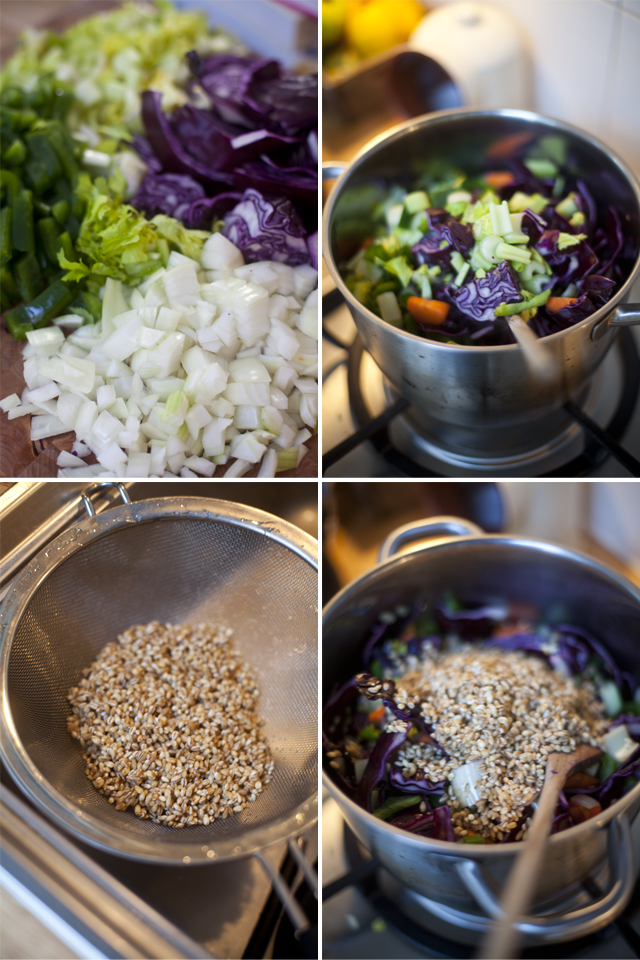 Food wise I have two major personal kitchen goals for the new year, the first to develop my ultimate bread recipe, I mean the type of home made bread that has a crisp chewy crust with soft doughy interior, I have made a lot of bread which all tastes lovely, but I have yet to bake my perfect loaf.  My other major food goal is to travel to Asia, I am in love the cuisine and I can no longer justify banging on about it without having seen it first hand!  I'm hoping to go later this year, so you can expect a full post full of photos when that happens.  Until then I have been back in the kitchen doing what I do best… Feeding my hunger!
I first made this Pink Pearl soup this time last year and it was by complete fluke that the pearl barley turned a rosy shade of pink thanks to the red cabbage, which is clearly where the soup gets its name.  Yes I know it's all a little bit girly with the pink pearls and all but this is a manly soup through and through!  Unfortunately at the end of the shoot for the TV show, everyone had developed some form of a cold, so we were in serious need of some a vitamin boost.  Thankfully this soup is packed with lots of the good stuff, and I originally added the pearl barley for a bit of sustenance, as sometimes you need more than just soup to keep you going.