×
Sign up for my free weekly newsletter!
For meal plans, cooking tips and new recipes...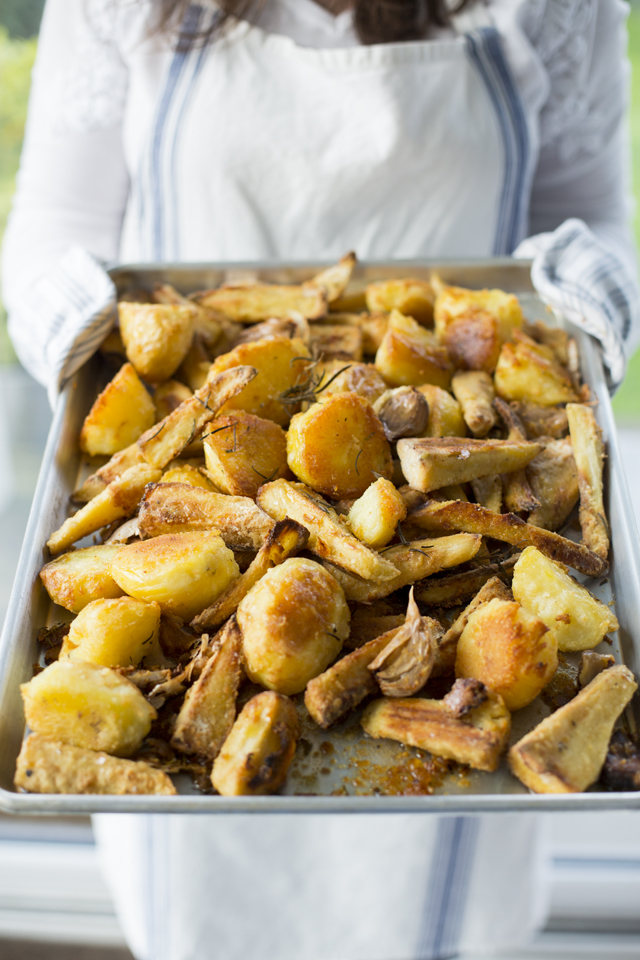 Method
Begin by combining the flour, Parmesan, salt and pepper in a mixing bowl. Peel the parsnips using a potato peeler. Then halve and quarter them lengthways and cut each length in half across, so that you end up with smallish chunks. Cut out any tough woody centres. Now pop the parsnips in a pan, pour in enough boiling water just to cover them and add salt. Put on a lid, bring them to the boil and boil for 3 minutes.
Meanwhile have a large kitchen tray ready. Then, as soon as they are ready, drain them in a colander and, whilst they are still steaming as the mixture will stick, drop a few at a time using the tongs, into the flour and Parmesan mixture,ensuring an even coating.
As they are coated transfer them to the tray. To bake them, preheat the oven to 200 °C/ 400 °C Gas Mark 6. Place a large solid roasting tin in the oven to preheat and in it put enough oil just to cover the base and a knob of butter for flavour. Then, when the oven is ready, remove the tin and place it over direct heat (turned fairly low) and, again using tongs, place the parsnips quickly side by side in the tin.
Tilt it and baste all the parsnips with hot oil mixture, place the tin in the oven and bake them for 20 minutes, then turn them over, drain off any surplus fat (a bulb baster is good for this) and continue to bake for a further 15-20 minutes or until they are crisp and golden. Serve hot.

TOP TIP

When they're all coated in the mixture they can be stored in the fridge or freezer for later use. Also try swapping the parsnips for potatoes, just boil for an extra ten mins.
If you make this recipe, be sure to tag your photo
#DonalSkehan