Rocket Power Chicken Superfood Salad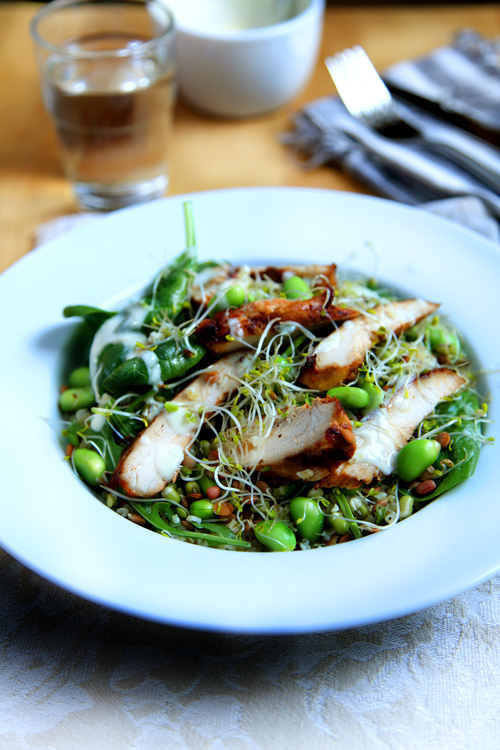 As the winter months are thankfully coming to end, I am already starting to look towards more fresh and healthy dishes. Thankfully the days are becoming longer and brighter, now don't get me wrong, I'm all about comfort food, but as we start to look towards the spring nothing beats a really fresh and zingy salad. This Rocket Power Chicken Superfood Salad ticks all the boxes for me, it's perfect for a healthy lunch box, just save the dressing until the last minute.
Serves 2
100g bulgar wheat
170ml boiling water
A drizzle of olive oil
2 chicken breasts
A little black pepper
25g brocco shoots
60g lentil and bean shoots
150g soy beans
30g spinach leaves
30g rocket leaves
For the dressing:
2 tablespoons of lemon juice
1 tablespoon of natural yoghurt
1 tablespoon of extra virgin olive oil
1/2 teaspoon of English dried mustard
A good pinch of sea salt and black pepper
Place the bulgar wheat in a bowl with the boiling water and cover with cling film.  The bulgar wheat will cook in the water while you can get on with the rest of the salad.
Season the chicken breasts with a little black pepper, brush a griddle pan with a little olive oil and cook over a medium high heat for 4-5 minutes either side or until the chicken is cooked through.  Remove the chicken and slice thinly.
While the chicken is cooking, cook the soy beans according to the packet, drain and rinse in cold water, set aside.
Whisk all the ingredients for the dressing together in a small bowl.
In a large bowl toss the spinach, rocket, brocco shoots, lentil and bean shoots and soy beans with the dressing.
Assemble the salad with a layer of bulgar wheat on each plate, top with the salad leaves and shoots and finally place the chicken slices on top and serve!