Asian Teriyaki Chicken Salad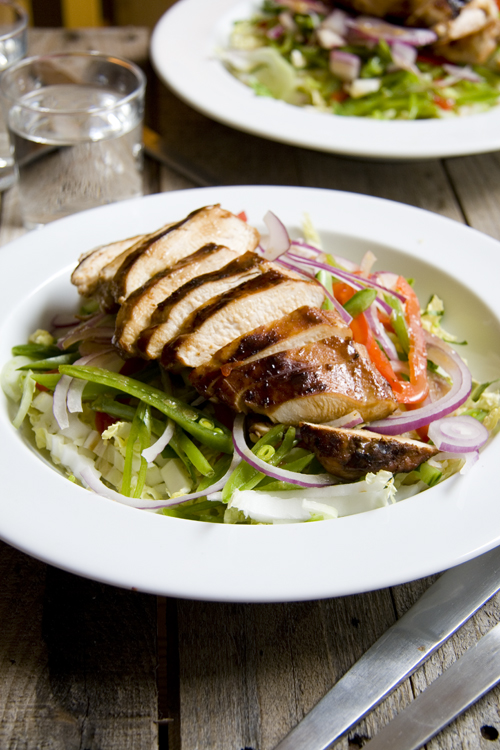 I make this salad to go, if you want to do the same, keep the dressing separate and add it when you are ready to eat.
Serves 4
4 chicken breasts
4 tablespoons of teriyaki sauce
2 cloves of garlic, finely chopped
1 small Chinese cabbage, finely chopped in shreds
A large handful of sugar snap peas, finely sliced
2 red peppers, sliced finely
1 red onion, sliced finely
1 tablespoon of sunflower oil
For the dressing:
3 tablespoons of sunflower oil
1 tablespoon of teriyaki sauce
Juice of 1 lime
1 clove of garlic, finely minced
½ a thumbsized piece of ginger, finely minced
Combine the teriyaki sauce and garlic in a bowl and add the chicken breasts.
Toss to combine, cover and then place in fridge while you chop the salad ingredients
Heat a griddle pan over a medium heat with a little oil and fry the chicken breasts for 4-5 minutes either side or until hey are cooked through.  Remove the breasts from the pan set on a chopping board to cool.
In a large mixing bowl, whisk together the ingredients for the salad dressing.
Add the Chinese cabbage, red peppers, red onion and snow peas to the bowl.  Toss until the vegetables are nicely coated with the dressing.
Serve the salad in large deep dishes and sprinkle with a little shredded coriander.
Slice the chicken thinly and arrange on top of the vegetables.
Serve straight away.