Balsamic Chicken, Avocado & Radish Salad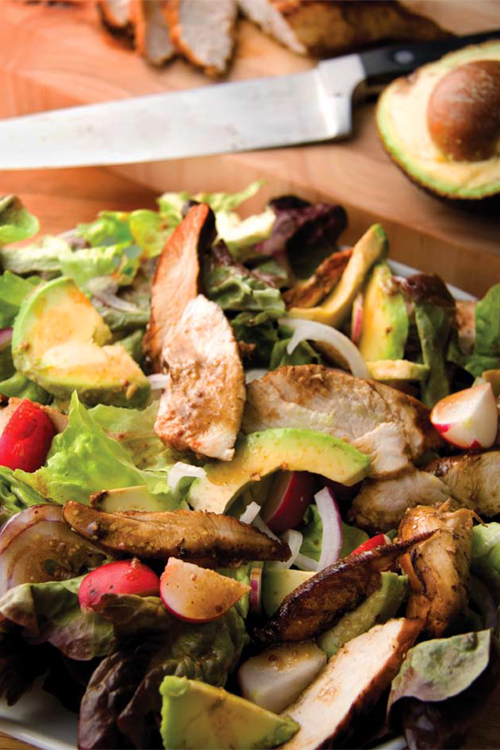 Even my just about overripe Avocado, is one of the true underrated super foods- It's packed with essential fatty acids, Vitamin K and antioxidants- it also makes a lovely face mask! (But you didn't hear that from me…) Radish's are often linked to aiding digestive problems and are beneficial for the teeth and gum's- So overall this salad is packed with nutrition and is a perfect Good Mood Food recipe!
Serves 2
2 free range chicken breasts
1 tablespoon of balsamic vinegar
3 tablespoons of olive oil
Juice of 1⁄2 lemon
A good pinch of black pepper
1 red onion, cut in half and sliced wafer thin
1 avocado
6 radishes
A large handful of oak leaf lettuce leaves
For the dressing:
1 tablespoons of balsamic vinegar
3 tablespoons of extra virgin olive oil
1 small garlic clove, finely chopped
1 teaspoon of wholegrain mustard
Juice of 1⁄2 lemon
A good pinch of sea salt
If you have the time to marinate the chicken breasts overnight, by all means go ahead. Remove any fat or skin from the breasts and place in small resealable bag. Pour in 1 tablespoon of balsamic vinegar, 3 tablespoons of olive oil, the juice of half a lemon and a pinch of black pepper. Seal and give a good shake. In a jar, bowl, or whatever you want to make your dressing in, combine the dressing ingredients. Whisk or shake to combine and set aside.
Heat a large frying pan, until just before it begins smoking, and place the chicken on it. You shouldn't need any extra oil as olive oil is used in the marinade. Cook for approximately 4–5 minutes either side then remove from the heat. Let it rest for a few minutes (if you can wait) and slice into thin strips. Place a good handful of lettuce leaves on each plate and scatter with the red onion.
Slice the avocado in half and remove the stone. Spoon out the green flesh, slice into thin strips and arrange on top of the salad. Give them a squeeze of lemon juice to prevent browning. Cut the radishes into quarters and place on the outside of the plate. Arrange the chicken strips on top of the avocado and using a spoon drizzle the dressing over the salad.