Barbeque Cajun Spatchcock Chicken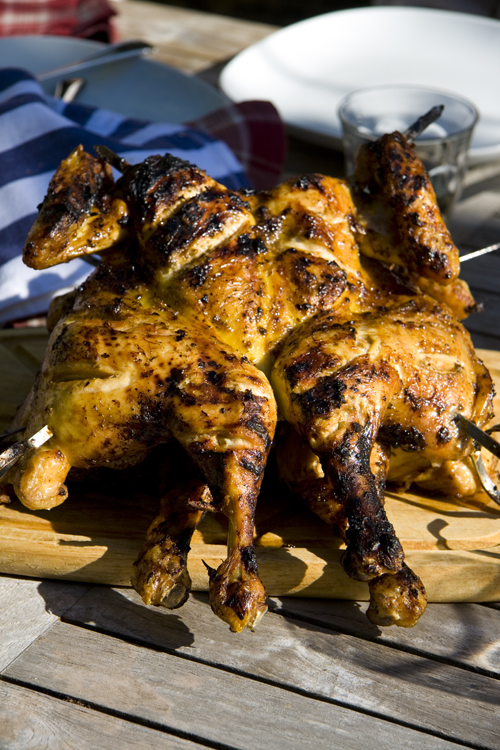 The combination of spices here are so tasty, but if you are missing some, don't be afraid to use dried herbs or even whatever fresh herbs you have available to you. Barbecuing can be a little tricky but the cooking time will depend on the size of your chicken, if you are worried, simple insert a skewer at the thickest part and if the juices run clear, the bird is cooked!
Serves 6-8
2 small chickens
4 cloves of garlic
2 tablespoons of dark brown sugar
2 tablespoons of paprika
2 teaspoons of cayenne pepper
2 teaspoons of dried oregano
A small handful of fresh sage leaves, roughly chopped
A small handful of thyme
Juice of 1 lemon
3-4 tablespoons of vegetable oil
A generous pinch of sea salt and pepper
To prepare the chicken, place the bird breast down, and using a knife or a sharp scissors, cut along the back bone. Open the bird out and flip it over breast side up and using your fist push down hard on the breast to break the back bone.
Thread a skewer diagonally through the bird from the leg to the breast and repeat on the other side. Score the bird on the legs and breasts. Repeat the whole process for the second chicken. Place the chicken in a large roasting tin.
Prepare the marinade.  Place the rest of the ingredients in a pestle and mortar or a food processor and break down until you have a rough paste. Spread the paste over the chicken until it is completely covered.  Cover the roasting tin in tin foil and place in the fridge to marinate for 30 mins to an hour, if you have time. Place the birds on the barbeque over a medium heat and cook breast side up for 25-30 minutes.
Half-way through give the birds a squeeze of lemon juice.  Turn the birds over and cook for 15-20 minutes or until the chickens are cooked through.  If you find the chicken is blackening too much, place them on some tinfoil until they are cooked through.
Enjoy!