×
Sign up for my free weekly newsletter!
For meal plans, cooking tips and new recipes...
Basic Cupcake Recipe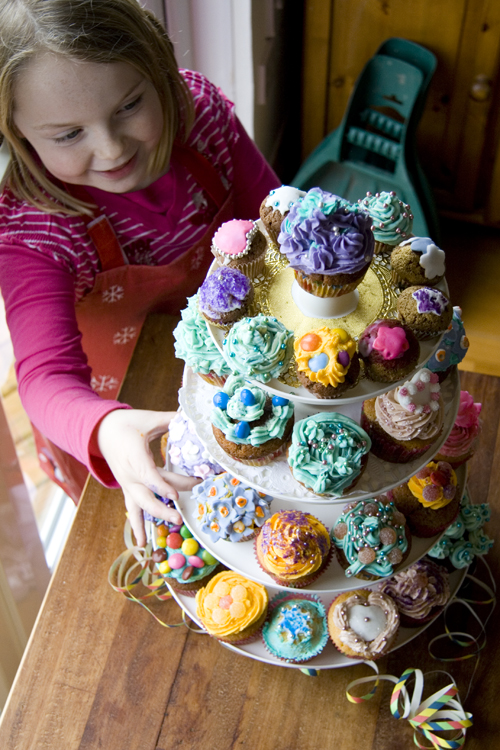 This recipe again comes from aunt Erica, and is adapted from her fairy cake recipe. If you are making these to decorate with kids, and want to limit the time it takes to put everything together, it may be easier to make the cupcakes ahead of time
Makes approximately 8 cupcakes
175g of self raising flour
110g of caster sugar
1 teaspoon of baking powder
110g of soft margarine or butter
2 large eggs
50ml of water/milk
For the butter cream frosting:
170g of softened butter
225g of icing sugar
Preheat the oven to 180oC and line a cupcake tray with paper cases.
In a large bowl combine all the dry ingredients.  Make a well in the center of the bowl and break in the 2 eggs and add the butter in small pieces.  Using an electric hand mixer beat all the ingredients together until combined.
Add in half the milk/water and beat again until combined.  You are looking for the batter to be light and creamy.  Add the rest of the liquid if you need it- you may not.
Divide the batter evenly into the paper cases and place in an oven for 15-20 minutes or until firm and light brown on top.
Allow to cool on a wire rack before applying the frosting.
In a bowl beat the butter and add the icing sugar bit by bit until it is all incorporated.  At this point you can separate the frosting into a few different bowls and stir through different food colourings.  Spoon the frosting into an icing bag and ice away!
Let your imagination go wild!