Beef and Black Bean Stir Fry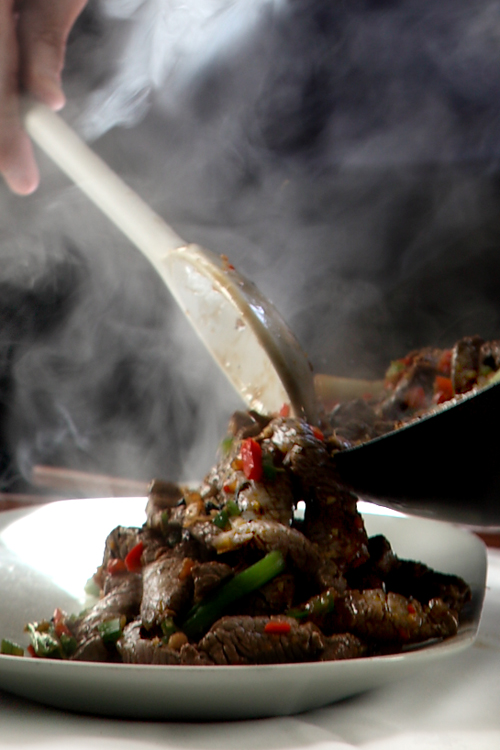 This is the recipe we were given along with the press release and Ken actually demonstrated the dish for us. I can tell you it is absolutely delicious and you should definitely give it a go. It follows through from what he mentioned about using different ingredients to build layers of flavours and many different notes.
Serves 2
200g of beef, sliced in strips
25ml of rapeseed oil
2 teaspoons of ginger, finely chopped
2 cloves of garlic, finely chopped
Zest of one orange
1 teaspoon of birds eye chillies, chopped
25g of black beans
75g of spring onions, chopped in 1 inch shanks
50g diced onion
75g diced red peppers
75g diced green peppers
45ml oyster sauce
40g of Chee Hou sauce
2 teaspoons of sugar
200ml water
20ml sesame oil
1 teaspoon of cornflour
Heat the wok over a high heat and add oil to coat.  Quickly stir fry the meat and when it is cooked through, remove from the pan and set aside.
Heat the oil in the wok and add the ginger and garlic.  Stir fry over a high heat until it becomes golden and toasted.
Add the orange zest and fry until it releases fragrant citrus notes.
Then fry the chilli, black beans and chopped onions for 20 seconds.
Add the spring onions and peppers and fry lightly until tender.
Add the the Chee Hou sauce, oyster sauce, water and sugar and stir through.  Then add the meat and toss until it is coated with all the sauce and vegetables.
Finish with the sesame oil and thicken with the cornflour.
Serve with noodles or rice.