Crispy Pork Belly with Thai Fried Rice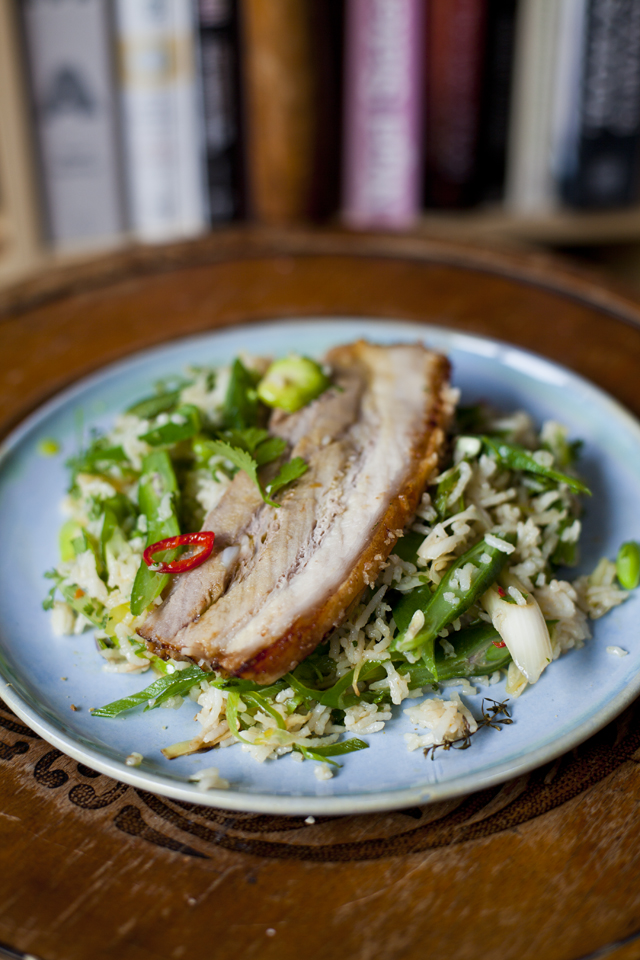 Most people don't realise that pork belly is incredibly easy to cook. You can season it with all sorts of different things but when it comes down to it, it's all about the crispy crackling and tender meat. The rice I serve with the pork belly is inspired by the salty, sweet and fresh flavours of Thailand. It's best to use rice that has been cooked and cooled in the fridge for a stir fry, it won't clump together in the pan the way freshly cooked rice would.
Serves 4
2kg pork belly
1 tablespoon of Sichuan peppercorns, crushed
Sea salt
For the rice:
300g of leftover basmati rice, cooked and cooled
6 large spring onions, finely sliced on the diagonal
A generous handful of coriander, roughly chopped
1 large red chilli, finely chopped
1 large thumb sized piece of ginger, finely sliced
3 cloves of garlic, finely chopped
200g of green beans or tenderstem brocolli
2 teaspoons of caster sugar
3 tablespoons of fish sauce
1 tablespoon of soy sauce
Preheat the oven to 160˚C.
Pat the pork belly completely dry with kitchen paper and then rub with sea salt and peppercorns all over.
Place on a wire wrack set over a roasting dish. Place in the oven to cook for 3 hours.
Turn the heat to 220˚C and cook for a further 15 minutes until the crackling is crispy.
Remove from the oven and allow to rest while you prepare the rice. When you are ready, using a bread knife, cut through the crispy skin in 1cm slices.
Heat the oil in a large wok until just about smoking. Add in the ginger, garlic, spring onions and chilli and fry for about 30 seconds until aromatic.
Add in the green beans or broccoli and fry for 2 minutes. Add in the rice and stir through. Season with the fish sauce, caster sugar and soy sauce and fry for a further 3 minutes.
Toss through the coriander and serve alongside slices of the pork belly.