Deep South Gumbo!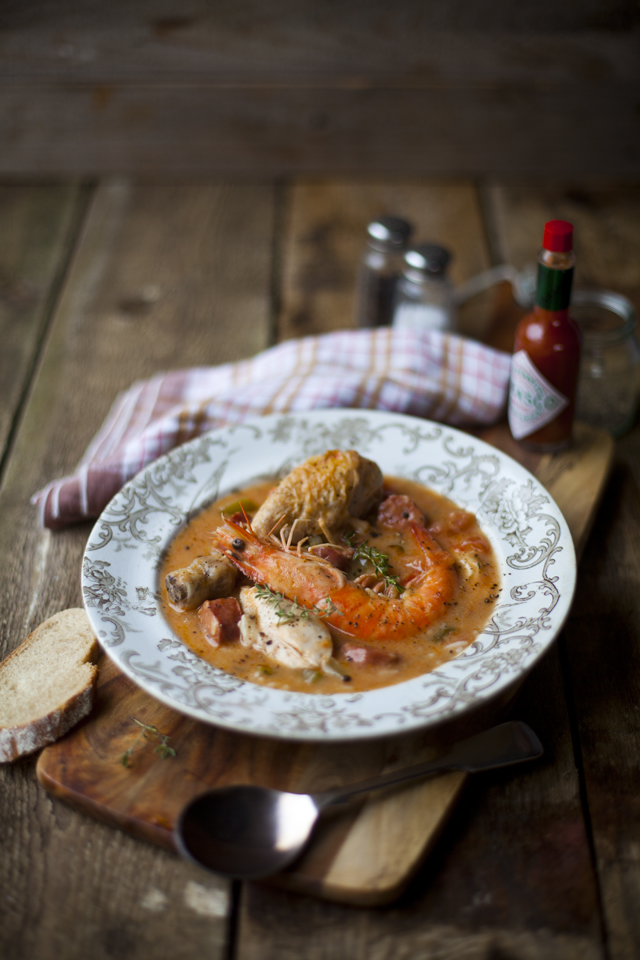 I don't think you can visit Louisiana without trying Gumbo. It's on most menu's and is wonderful hotch potch of ingredients combined in a rich and thick liquid served with white rice. During my stay in New Orleans we visited the New Orleans Cooking Experience where the self proclaimed High Priestess of the Bayou and incredible character Boo taught us her recipe for Gumbo. It's made by making a roux from oil and flour and then adding onion, celery and green pepper. Like most home cooking there are many variants on this classic recipe but it is well worth a try for a true taste of the South!
Serves 8
1 1.2kg whole chicken, in portions
75ml of vegetable oil
100g of plain flour
1 large green pepper, chopped
1 large onion, chopped
3 sticks of celery, chopped
200g of roughly sliced andouille sausage (or mexiacan chorizo or qualbasa as substitute)
4 ripe tomatoes, chopped
2 litres of chicken stock
2 sprigs of thyme
4 bay leaves
2 garlic cloves, finely chopped
1 teaspoon of cayenne pepper
16 shrimps
Sea salt and ground black pepper
Cooked white rice to serve
Toasted Sour dough bread to serve
Preheat the oven to 200˚C.
Place the chicken portions on a large shallow baking sheet and drizzle with a little oil and season with sea salt and ground black pepper.
Roast in the oven for 45 minutes until cooked through.
While the chicken is cooking, whisk together the flour and oil in a large pot  over a medium heat.
Continue to cook, whisking continuously until the mixture turns a rich brown.
Add the pepper, onion and celery and cook until tender. Stir in the sausage and tomatoes and then pour in the stock.
Add the thyme, bay leaves, black pepper, cayenne and garlic.
Bring to the boil and season with sea salt.
Add the chicken, shrimps and continue to simmer for 10 minutes.
Serve in bowl with a tablespoon of white cooked rice in each.