Edible Christmas Gift Basket!
Baking and Christmas always went hand in hand when I was growing up and I used to love spending the weekends before the big day baking cookies and sweet treats!  They always made great little presents for anyone who called to the house.  There are a few recipes which I make every year without fail and they make great edible gifts.  Cookies, Jam, Paté, Muffins, Truffles and Biscotti all keep well and are perfect to package up as pressies.  You channel your inner Blue Peter and make up tags, ribbons, and personalised stickers to make your gifts look really unique.
These stained glass window cookies are fairly unique and look really impressive.  I used to make them when I was younger and I've making them ever since, not only are they delicious they make great homemade Christmas ornaments.  The stained glass effect comes from boiled sweets which are contained by the cookie dough, and melt down during the cooking process.  When they come out of the oven they set and go hard making a perfect little stained glass window!
I remember first making chocolate truffles with my mom for Christmas dinner but I was disgusted that they had such a grown up taste.  If you are making them with kids it might be wise to drop the coffee and booze and you could dip them in white chocolate for a hit of extra sweetness.  Essentially they are incredibly easy to make and lots of hands make little work, so it really is a great one to make if you have a few little helpers in the kitchen!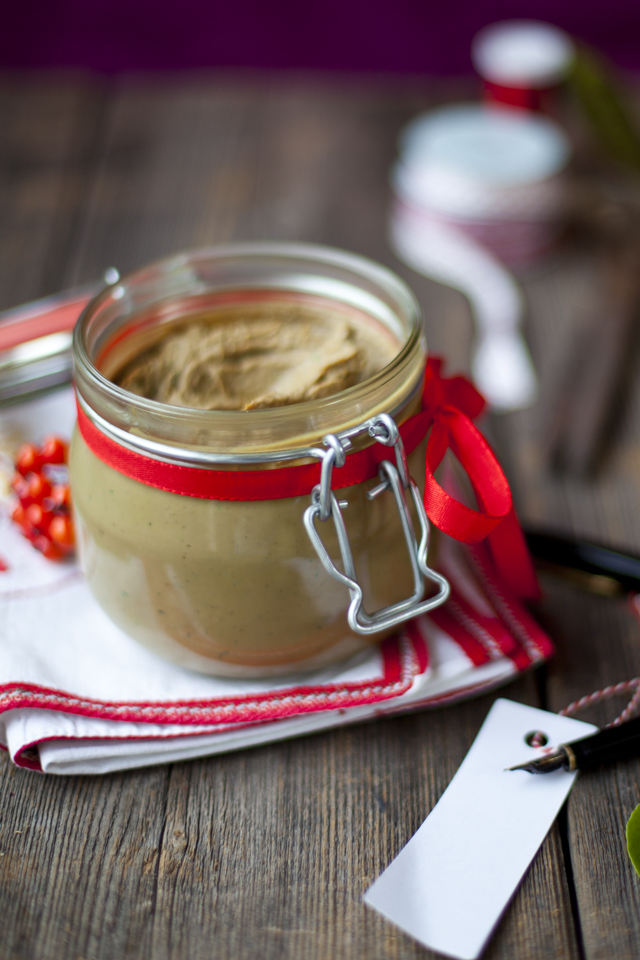 It might not be your cup of tea, but chicken liver paté spread on some warm toast is one of my favourite breakfasts around Christmas!  There are lots of ways to enjoy it and you can toast up some sour dough bread slices and serve it on them as quick canape's for any surprise guest who might drop by.  Either way you enjoy it, it makes a great edible gift but do make sure whoever you give it to puts it in the fridge!
This jam has is jam-packed with lots of Christmas flavour, cinnamon, fresh ginger and apples really make a wonderful mix.  This recipe makes quite a few jars and if you sterilise them correctly they will last for at least a year if not more.  It goes beautifully on toast, or with muffins or pancakes and sometimes I stir it into roasted meaty juices for a sweet and sticky sauce.
Biscotti is a really great recipe to add to your repertoire, because it can be adapted with so many different ingredients.  These dark chocolate and pistachio biscotti are one of my favourite combinations, the pistachios are salty and sit really well with the sweetness of the biscuit and chocolate.  There are so many other ingredients you could use, like white chocolate and dried cranberry, lemon and almond, or dark chocolate and orange zest.  They keep really well wrapped up so again make a great edible Christmas gift.
Continue to the recipe for Chicken Liver Pate Jars…
Continue to the recipe for Chocolate Hazelnut Truffles…
Continue to the recipe for Stained Glass Window Cookies…
Continue to the recipe for Ginger, Cinnamon and Apple Jam…
Continue to the recipe for Dark Chocolate and Pistachio Biscotti…