Garlic and Rosemary Chicken with Roast Cherry Tomato Salad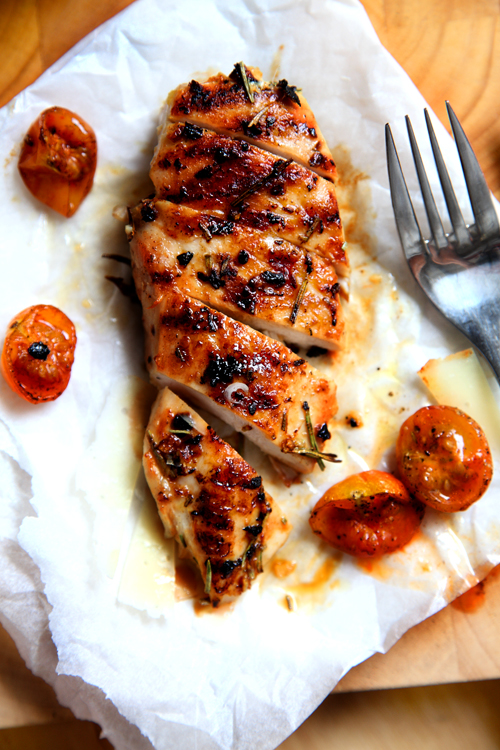 Although I do try to buy as much in season vegetables as possible I just can't resist using cherry tomatoes in this tasty little dish. The good thing about roasting them is that it brings out the best from even the most tasteless tomatoes. By feeding them with a little sea salt, black pepper, olive oil and balsamic vinegar you are guaranteed little morsels packed with punchy flavour. It's dishes like this which are really simple and full of flavour that make mealtimes far more enjoyable and take the hassle out of cooking for groups. Feel free to adapt the recipe as you wish, try using different herbs, different salad leaves, just use what you have.
Serves 4
4 chicken breasts
6 cloves of garlic
2-3 sprigs of rosemary
4 tablespoons of olive oil
A good pinch of ground black pepper
A good pinch of sea salt
For the salad:
4 tablespoons of olive oil
2 tablespoons of balsamic vinegar
A good pinch of ground black pepper
A good pinch of sea salt
1 large punnet of cherry tomatoes, sliced in half
120g of rocket leaves
1 small red onion, finaly sliced
Shavings of parmesan cheese to serve
In a bowl whisk together the olive oil and balsamic vinegar for the salad.
Add the tomatoes to a large roasting tray cut side up, pour half the dressing over and toss to combine.  Season with sea salt and black pepper.
Place in an oven at 200oC/Gas Mark 6 for about 35 minutes or until the tomatoes have reduced in size.
While the tomatoes are roasting in the oven, in a pestle and mortar or with the back of a knife, crush the garlic cloves with a little sea salt, until you have a fine paste.
Remove the leaves from the sprigs of rosemary, and add them with the mushed garlic, 4 tablespoons of olive oil, and chicken breasts to a bowl and allow to marinade while you prepare the rest of the salad ingredients.
On a large hot griddle pan, fry the chicken breasts for 3-4 minutes either side, depending on the size, but just make sure they are cooked through.
In a large bowl, toss together the rocket, roasted cherry tomatoes, red onion and remaining dressing.
Serve alongside the chicken with some shavings of parmesan cheese.