Garlic Mushroom and Goats Cheese Pasta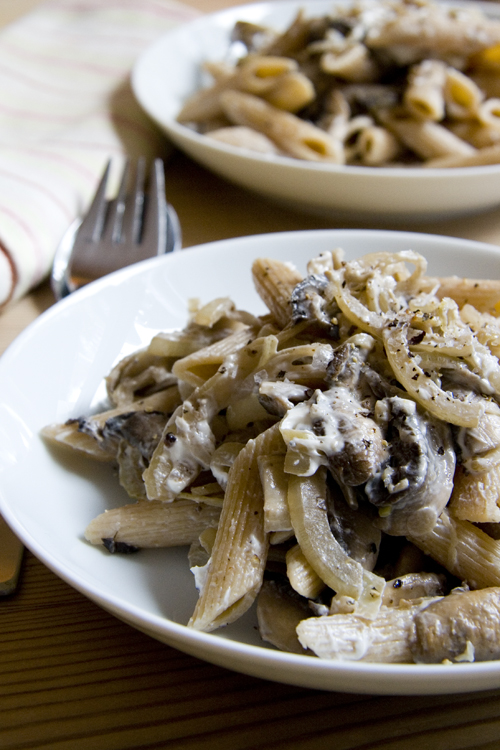 Garlic and mushroom is a classic combination and works super in this tasty pasta dish. Crumbling the goats cheese over the hot pasta creates a creamy coating and leaves the dish with a distinctive tangy taste. The dish only takes the time to cook the pasta and is perfect to make a little extra and stick in a lunchbox for tomorrow.
Serves 4
250g of wholemeal penne pasta
1 tablespoon of olive oil
3 cloves of garlic chopped finely
1 onion chopped into thin half moon slices
150g of mushrooms sliced thinly (Approx. 6 large mushrooms)
75g of goats cheese
A generous pinch of black pepper
A generous pinch of sea salt
Bring a large pot of water to the boil and add the pasta.  While the pasta is cooking prepare the garlic and onion.
In a large frying pan heat the oil, add the garlic and onion and fry gently until softened and browned.  Then add the mushrooms and cook until soft.The mushrooms will turn from white to a nice creamy brown colour.
When the pasta is cooked drain in a colander and put back in the pot.  Drizzle with a little extra olive oil and add the mushrooms, garlic and onion.  Crumble in the goats cheese, add the salt and pepper and stir together until everything is combined evenly.
Serve straight away in deep dishes and season with a little extra black pepper.