Go Nuts Nutella Whoopie Pies!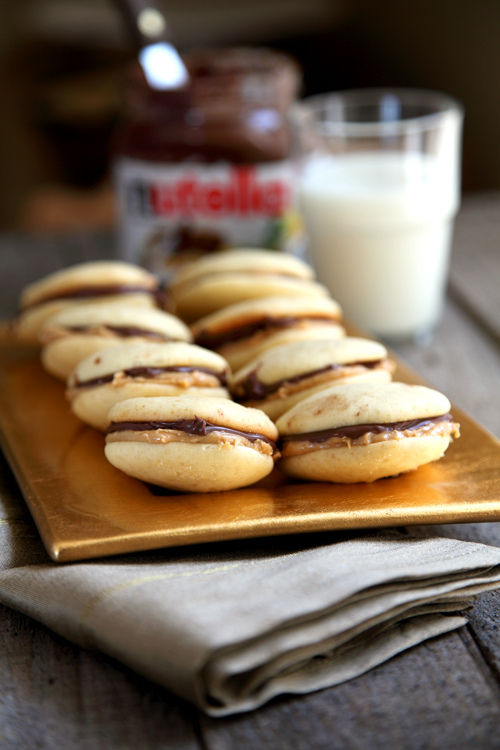 By dropping the cocoa powder from the original whoopie recipe and substituting flour you get left with really beautiful plain whoopie discs. As a filling I use a combination of nutella and smooth peanut butter but you could also use the chocolate frosting from the cupcake recipe.
Makes 16 whoopie pies
120g/4oz butter
190g/6 ½ oz caster sugar
2 eggs, lightly beaten
345g/12oz of plain flour
5g/1 tsp of baking powder
5ml/1 tsp of vanilla extract
250ml/8 ½ fl oz of buttermilk
For the filling:
80g of smooth peanut butter
80g of nutella
Preheat the oven to 180°C/350oF/Gas Mark 4 and line two baking sheets.
Sift the flour, baking powder and salt into a bowl.
In another bowl, using an electric whisk, cream the sugar and the butter until pale and fluffy. Add in the eggs gradually, mixing well to combine.
Add the vanilla extract to the buttermilk and, alternating with the dry ingredients, add to the bowl, mixing until everything is combined and you are left with a thick batter.
Spoon rounded teaspoons of the batter onto lined baking sheets, allowing space for them to spread while cooking. Place in the oven for approximately 15 minutes or until the topshave puffed up and spring back when lightly pressed.
When they are cooked, remove the mini pie halves from the baking sheets with a metal spatula and place on wire rack to cool.
Once cooled, spread a teaspoon of the nutella on the flat side of 16 of the pie halves. Spread a teaspoon of peanut butter on the remaining 16 pie halves and sandwich together with the nutella pies.
These little pies are heavy going so make sure to serve with a glass of cold milk.