Herby Roast Chicken and Honey and Thyme Parsnips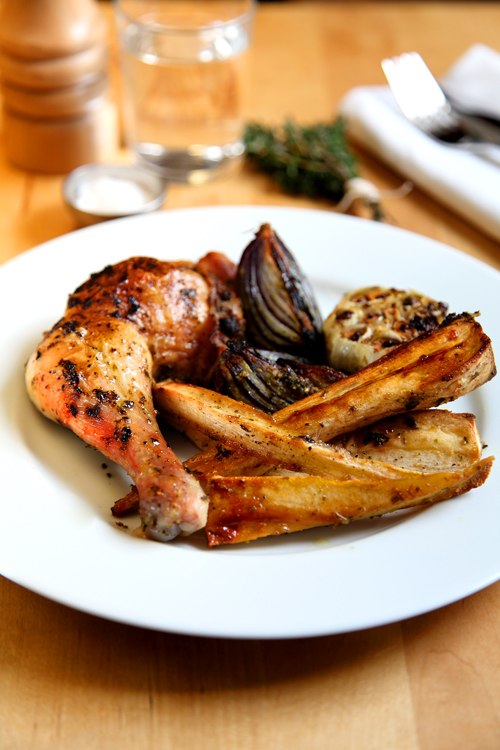 Normally I make this herb paste for a full roast chicken, but I find pre-portioned chicken legs and thighs are perfect for entertaining as you don't have to fuss around with carving. The great thing about this dish is that you can prepare the two trays a few hours ahead of your guest arriving and pop them in the oven just before they arrive! If you don't grow your own herbs you can pick up little packets for about €1 in most supermarkets which are really handy for one off dishes. I love roasting whole garlic bulbs but if it's too much garlic for you just leave these out.
Serves 6
6 Chicken legs and thighs
4 red onions, peeled and quartered
2 bulbs of garlic,with the top sliced off
4 cloves of garlic
40g or a large handful of fresh herbs, basil, rosemary, thyme
6 medium sized parsnips, peeled and quartered
A few sprigs of fresh thyme
1 tablespoon of honey
A good drizzle of olive oil
A good pinch of sea salt and ground black pepper

In a pestle and mortar or a food processor, blitz the mixed herbs, garlic cloves, and a little olive oil.  Add a little more olive oil until you have a loose paste.
Place the parsnips on a large roasting tray with the thyme, drizzle with honey and oil and spoonful of the herb paste.  Toss together until everything is combined.
On another roasting tray arrange the chickens pieces, garlic bulbs and red onion.  Add the rest of the herb paste and toss everything together until the the chicken and onions have a nice coating of herbs.
Place both roasting trays in the oven at 190°C/Gas Mark 5, for about 45-50 minutes or until the chicken is cooked right through.  The parsnips will cook slightly quicker than the chicken so you may need to take them out of the oven before the chicken.
Serve the chicken straight away, with the parsnips, red onion, garlic and an little drizzle of the juices.