Maple Bacon Buttermilk Scones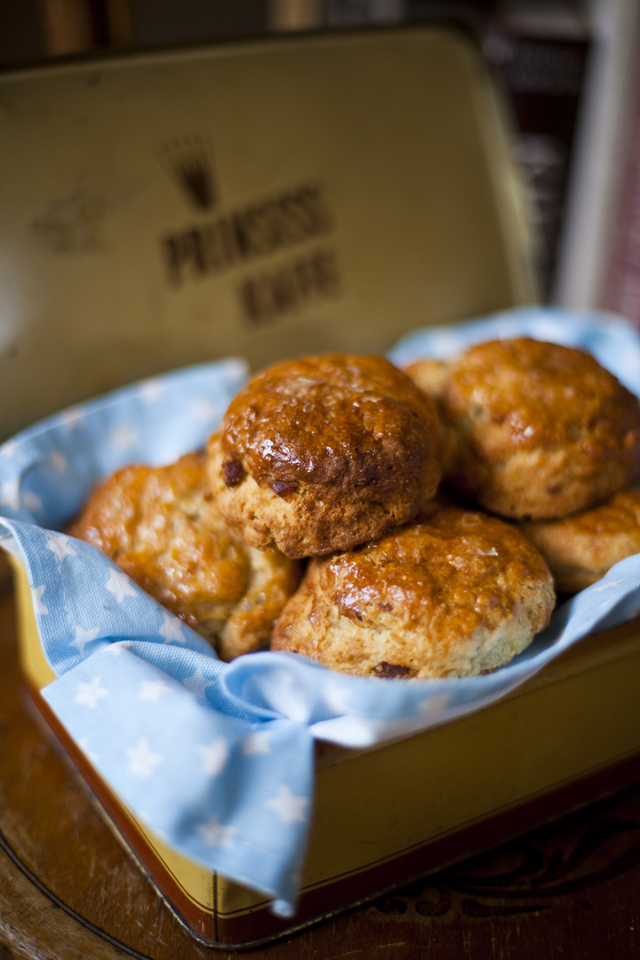 I love the combination here of sweet and savoury, and it makes for an extremely delicious breakfast treat.
Makes 16 scones
1 tablespoon of rapeseed oil
250g of smoked streaky bacon, cut into 2cm pieces
450g flour
2 tablespoons sugar
1 tablespoon baking powder
1 teaspoon baking soda
A generous pinch of salt
225g cold butter, cut into 1cm cubes
180ml maple syrup, plus a little extra for glazing
180ml of buttermilk
1 egg
Sea salt to sprinkle
Place a large frying pan over a medium high heat and fry the bacon in a little oil until crisp and sizzling. Transfer to a plate lined with kitchen paper and set aside to cool completely.
In a large mixing bowl combine the flour, sugar, baking powder, baking soda and salt. Using a fork or pastry cutter press the butter into the dry ingredients until you have a mixture with resembles rough breadcrumbs. Don't worry too much if there are still some rogue lumps of butter.
Combine the maple syrup and buttermilk in a pyrex jug and pour this into the butter mixture along with the cool bacon.
Using a fork bring the dough together making sure not to over mix it.
When the dough has come together, turn it out on to a clean work surface sprinkled with flour.
Roll the dough out to about 6cm in thickness and cut out 5cm diameter circles. You may have to roll the dough out again to use it all up.
Place the scones on two baking sheets lined with parchment paper or silicone baking mats and then place in the fridge to rest for about 10 minutes.
Preheat the oven to 180˚C. Whisk the egg in a bowl and set aside.
Before the scones go into the oven, brush a little beaten egg and sprinkle a little sea salt on each one, and then bake for 25 minutes.
Remove the scones from the oven and brush over a little maple syrup on each one. Place back in the oven for another 3 minutes and then remove to a wire cooling wrack.
Serve the scones straight away or parcel up in paper bags for a savoury breakfast snack!