Nutty Thai Red Beef Curry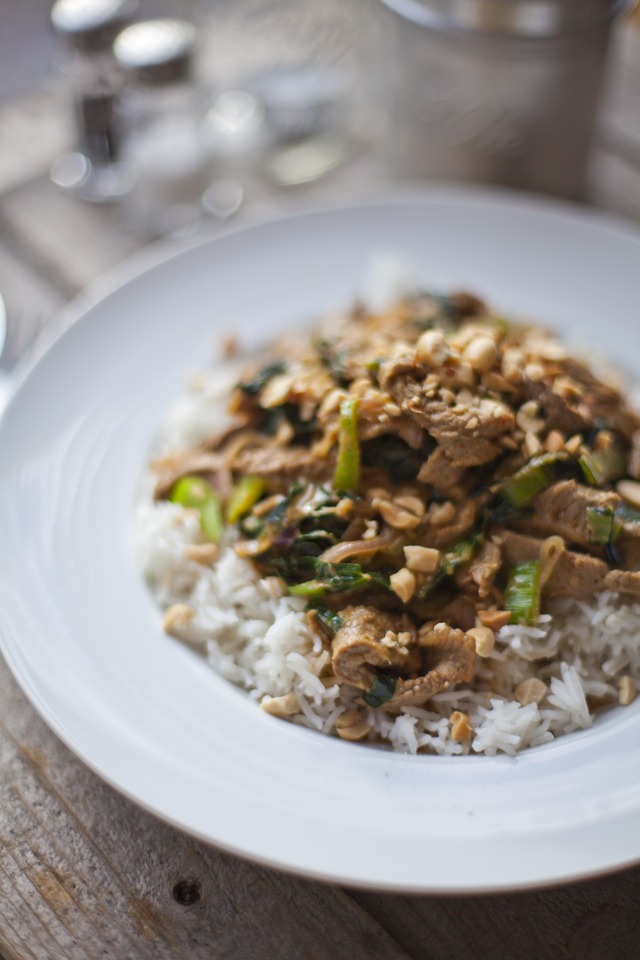 This is a nice fast dish that can be cooked in the time it takes to make the rice! It's really important to taste a dish like this, if you feel it's missing something, add more soy sauce, more honey, or more spice from the curry paste. Cooking is all about making it taste right for you!
Serves 4
2 rib eye steaks, sliced thinly
2 tablespoons of red curry paste
2 cloves of garlic, finely minced
1 thumbsized piece of ginger, finely minced
1 teaspoon of sesame oil
2 tablespoons of rapeseed oil
1 red onion, finely sliced
2 large pak choy, roughly sliced
1 tablespoon of dark soy sauce
1 tablespoon of honey
400ml of coconut milk240g of basmati rice
800ml of water
A handful of salted peanuts, roughly chopped
Place the rice in a pot with the full quantity of water and place over a medium heat, and simmer for about 10-12 minutes until the water has evaporated. Remove from the heat and allow to sit with the lid on until you are ready to serve.
While the rice is cooking, combine the sliced beef with 1 tablespoon of red curry paste, half the garlic and ginger and the sesame oil.
Place a wok over a high heat with 1 tablespoon of rapeseed oil and then stir fry the beef rapidly in two batches for about 3 minutes until just cooked.  Remove to a plate and set aside.
Place the wok back on the heat with a little extra oil and stir fry the onions with the remaining curry paste, for 2 mins, then add in the remaining garlic and ginger with the sliced pak choy. Stir fry until just tender.
Add in the coconut milk, soy sauce, and honey and bring to the boil. Taste it and once you're happy with the balance of flavours, serve.
Fluff up the rice with a fork and then serve alongside the beef. Top with a little sprinkling of chopped peanuts.