October Update!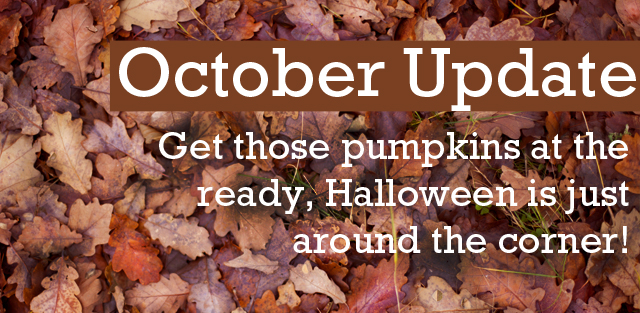 Hi Folks!
Pumpkin carving, monkey nuts, lots of comfort cooking and Autumn baking are all ahead of us in October.  This month on the blog, I have lots of new recipes, competitions, and tips to make the best of all October has to offer.
After a very busy September which had me traveling up and down the country giving cookery demonstrations, I'm looking forward to settling down to start work on my third book which will be released next year.
October brings with it lots of seasonal produce to get excited about and in this month's update, I'm focusing in on pumpkins, wild mushrooms and an Irish favourite, kale.  Of course there is much more to get excited about, so head out and scour farmers markets, butchers, fishmongers, and local shops for lot's of seasonal inspiration.
There are two episodes left of the new season of Kitchen Hero on Monday nights on RTÉ One at 8.30pm, you can find all the details and recipes from each episode by following the episode guide.  Make sure to tune in and spread the word!
Pick up the Irish Independent the week before Halloween for some of my favourite spooky recipes and also the November issue of Food & Wine out this month for lots of delicious winter warming soup recipes.
Enjoy October!
Donal x
I will be giving cookery demonstrations at the following locations throughout October:
5th of October- Google HQ Dublin
6th of October- Dwyer's, Co. Cork
7th of October- Monaghan Food Festival
29th of October- Savour Kilkenny

There are thousands of cookery tips online but this particular one I saw recently from Saveur magazine's test kitchen is well worth a watch, especially for those who find peeling garlic particularly laborious!

Taste of Monaghan
The Taste of Monaghan has lots to offer this year with a food village, farmers market and lots of cookery demonstrations.  Myself, Neven Maguire, and Liz Moore from the Belleisle Cookery school will all be on hand to show how to cook some of our favourite recipes.  My demo will be focusing on recipes from the stopfoodwaste.ie campaign.
6th – 9th of October, Co. Monaghan
Savour Kilkenny
One of the most exciting things that sets Savour Kilkenny apart from other food festivals is it's food camp.  An event which allows people from all different areas of the food world to come together and talk about what they do best.  Last years Savour Kilkenny saw the launch of the Irish Food Blogger association, so it will be interesting to see if there will be any more exciting start ups this year.  Apart from the food camp, there will be cookery demo's from myself, Aran Kapil, Catherine Fulvio and Edward Hayden, and lots of exciting forgotten cookery skill demos.
27th – 31st October, Co. Kilkenny

Bill's Everyday Asian
I've been a big fan of Bill Granger's books for a few years now and have pretty much all of them in my cookbook library.  Bill is an Australian TV cook who made his name by opening a cafe and restaurant in Sydney.  Since then he has fronted many TV series which have aired all over the world and has released a total of 6 cookbooks.  In many of Bill's books, some of my favourite recipes are those which feature a lot of Asian ingredients and in his latest offering "Bill's Everyday Asian" he makes the most of these.  While you might not find every recipe is a truly authentic Asian recipe, Bill makes each and everyone easy and accessible to the home cook.  Dishes like Beef Rendang, Bibimbap, and Satay Chicken will ensure that this book becomes a regularly used kitchen essential for anyone with a taste for the orient!
Available on Amazon.co.uk and all good book shops…

Honey & Jam
There really is an unbelievable amount of food blogs on the internet these days that it can be hard to keep up.  In Ireland over the past four years a small group of around 30 active food bloggers has grown into a figure closer to 300!  For me, stunning food photography and delicious recipes are what really makes a blog stand out and Hannah Queen's "Honey and Jam" does just that.  She makes use of natural light to shoot her often quirky recipes which she posts on the blog.  Recipes like Pear and Almond Chocolate Cake, Black Tea and Blackberry Sorbet and Honey and Rosewater Tappioca will all have you coming back for more.  Hannah is a 21 year old photographer and baker from Georgia who has been blogging for the past 3 years.  I came across her via the Kitchen Generation and have been checking in ever since.  Make sure to head over to her blog and read back through her impressive archive of recipes which stretches back to 2008.
Nelly's, South Circular Road, Dublin 8
Earlier this year we headed off on a Dublin food trail and one of my favourite places we stopped at was Nelly's, a cute and cosy little cafe close to St. Stephen's green.  Complete with bunting and pretty little table settings, Nelly's serves up hearty and wholesome lunches and offers a great selection of artisan products to buy.  When we stopped there on the tasting trail we got served up one of the thing's Nelly's is most famous for, their amazing rich chocolate brownies.  If you're around Dublin over a weekend, it makes a perfect little lunchtime stop.
Pumpkins have to be one of my favourite seasonal veggies, so much so that I made it my main priority to attempt to grow them myself this year.  I'm pretty happy with the results, and have two really big ones sitting in the pumpkin patch in the garden.  The only thing I am disappointed in is that I think I chose the wrong variety and instead of large orange pumpkins I have slightly spooky looking milky green coloured ones!  Even if you haven't grown them yourself, pumpkins are a wonderfully meaty type of vegetable which is not only highly nutritious it's full of flavour too!
Wild Mushrooms
A lot of really good food stores will carry a nice selection of mushrooms at this time of year and there is an endless amount of recipes to make the most of them.  There are many different varieties of mushrooms to choose from, possibly the most distinct and easily recognisable being the bright orange trumpet shaped chantarelle mushroom.  Keep an eye out for mushroom hunts near you, they take place around this time of the year and are an ideal way of brushing up on your funghi identification skills.
Kale
Kale is used in one of my favourite traditional Irish dishes colcannon and is smack bang in season for October.  It's a member of the cabbage family and is a very nutritious and can be identified by it's large curly green leaves.  Kale can been cooked very easily and apart from steaming it one of my favourite methods of cooking it is to shred it and throw it in a quick stir fry.

There are lots of recipes on the website to make the most of the new season, check out some of my favourites right here: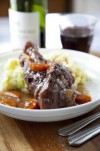 Lamb Shanks with Colcannon Mash
I really am a sucker for a good lamb shank, with it's melt-in-the-mouth texture, which literally falls off the bone, it truly is a thing of beauty! The key is to slow cook it at a low temperature. This transforms the gnarly piece of meat into a rich and juicy piece of deliciousness. You can serve it on normal mash, sweet potato mash, or with lentils, but I love colcannon and seeing as it is the season, it makes perfect sense!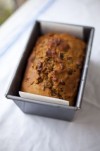 Halloween Barmbrack
This recipe makes a really beautiful moist loaf which is packed with flavour from the mixed spice and dried fruit, which sits overnight in cold tea and whiskey to soak up all the goodness. You can drop the whiskey if you wish.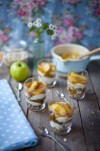 Caramel Apple Granola Pots
I admit that this is quite a sweet breakfast but it is quite filling with the addition of granola. You can buy premade granola or else toast some rolled oats with some honey, cinnamon, and raisins in the oven until golden. It will store quite nicely in an airtight jar for use throughout the week so I often make a double batch.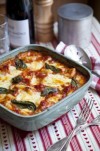 Mozzarella, Tomato and Gnocchi Bake
You could use any roast vegetable here really, but I particularly love the combination of the earthy beetroot and the spiky feta cheese. I use cous cous which is incredibly easy to prepare, but you could also try using bulghur wheat which is a healthier alternative and just as easy to prepare.
Kitchen Hero
The new season of Kitchen Hero is back this Autumn, with even more delicious and simple recipes to get you cooking in your kitchen. There is lots more to look forward to, with episodes including Food for a crowd where I get roped in to appear on stage, at a panto in Dublin, and end up cooking for the cast on the stage of the Tivoli theatre. Set your telly boxes for Monday nights on RTÉ One at 8.30pm!
Kitchen Hero: Monday nights, 8.30pm on RTÉ One

To celebrate Kitchen Hero being back on our TV screens, there will be be personally signed copies of Kitchen Hero and Good Mood Food available right here on the website. If you know any budding Kitchen Heroes out there then this is the perfect gift for them! For more details and to order a copy head over to the books section…
If there is anything you would like to see featured in next months update leave a comment below or drop me an email…