Pink Berry and Almond Swirly Buns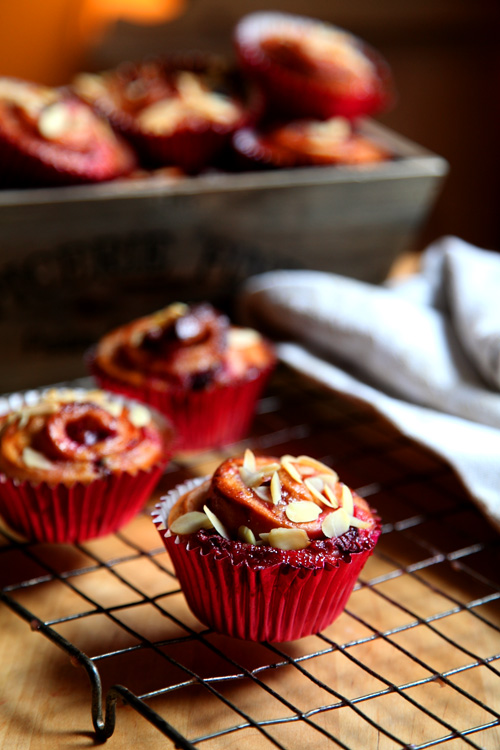 This recipe is a fresh take on the Swedish Cinnamon Buns which have been so popular on the blog and in the book! Inspired by Leila Lindholm (my current hero!) who uses blueberries in the filling, I decided it would be great way to use up the last of my leftover frozen berries. This recipe makes a lot of buns, but they freeze really well in ziplock bags and can reheated straight in the oven.
Makes about 40 buns
400ml/14fl oz milk
110g/4oz butter
2 x 7g sachets of dried yeast
110g/4oz sugar
750g/1½lbs flour
½ teaspoon of salt
1 egg, beaten
A handful of flaked almonds
For the filling:
200g of butter, at room temperature
150g of sugar
2 teaspoons of cinnamon
450g of mixed frozen berries
2 tablespoons of icing sugar
Melt the butter in a large pot gently on a low heat and then add the milk. When the mixture is lukewarm, remove from the heat and add the two sachets of dried yeast, sugar and salt. Slowly incorporate the flour one cup at a time; be patient, as the mixture will eventually come together and you won't be left with a sticky mess forever! You may need to add less or more of the flour to get the right consistency. When the dough has taken shape and is no longer sticky, turn out onto a floured surface and knead for about 3 minutes.
Leave the dough to rise in the bowl covered with a damp cloth for 45 minutes. Try and find somewhere warm, as the yeast will do its job a lot quicker.
While the dough is rising, prepare the filling. In a small bowl beat the butter with cinnamon and sugar until you get a light and creamy consistency. In another bowl combine the berries and icing sugar. You may have to zap the berries in the microwave to defrost them first.
When the dough has risen, cut it in half and roll it into a rectangle about 5mm thick, and then spread half the creamy butter filling all over. Top with half the berry mixture and spread evenly over the dough. Then, from the long side, roll the dough so you get a snail effect and slice into approximately 15–20 pieces. Repeat the process with the second half of the dough.
Place the slices in paper wrappers face up and bake the rolls in the oven at 180°C/350°F/Gas Mark 4 for about 10–15 minutes or until they are a light brown colour. Remove from the oven brush with a little beaten egg and sprinkle with flaked almonds. Place back in the oven for another 5-6 minutes or until the buns are golden brown and the almonds are toasted.
Remove from the oven and allow to cool on a wire rack, if you can wait that long!