Pressed Picnic Sandwich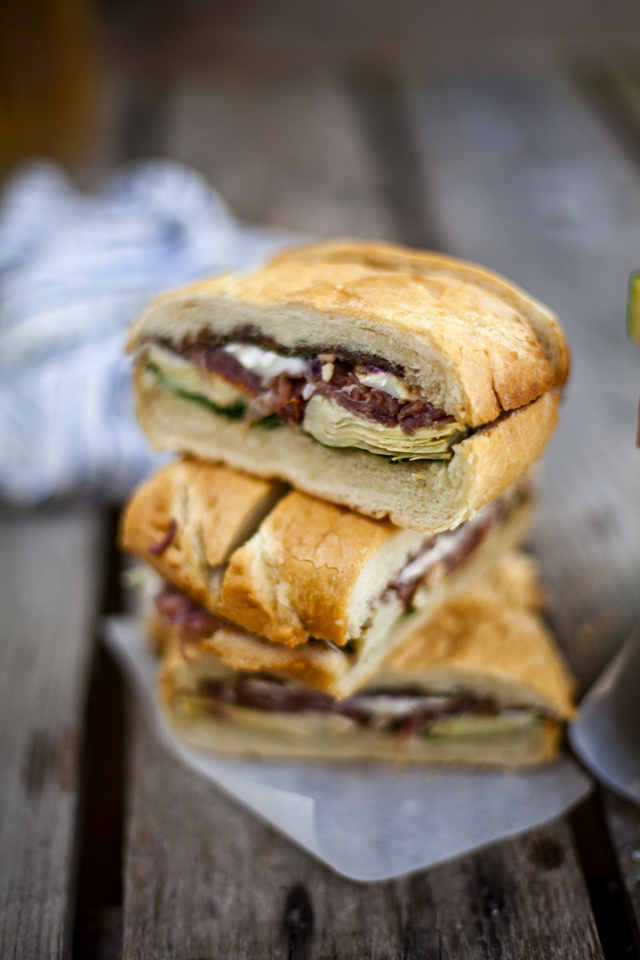 The pressed nature of this sandwich allows the flavours to permeate through all its layers. For a milder flavour, try using mozzarella instead of goats' cheese.  Also feel free to experiment with extra ingredients and feel free to add your own touches!
Makes 1 Giant Sambo
1 foot long ciabatta loaf, sliced in half lengthways
3 tablespoons of olive oil
1 tablespoon of balsamic vinegar
2 cloves of garlic, finely chopped
1 teaspoon of Dijon mustard
A generous handful of baby spinach
10 marinated artichoke hearts
A small handful of sundried tomatoes
8 slices of proscuitto
A good handful of basil, finely chopped
100g of goats' cheese
1⁄2 red onion, very finely sliced
Salt and pepper to season
Preheat the oven to 200oC/gas mark 6.
Place the ciabatta loaf, crust side down on a large baking tray and drizzle with a little olive oil and sprinkle with sea salt. Pop in the oven for a few minutes until just golden and toasted.
In a bowl whisk together the olive oil, balsamic vinegar, garlic and mustard. Remove the toasted ciabatta halves from the tin and drizzle the base slice with a little of the dressing. Arrange layers of the rest of the ingredients, baby spinach, artichoke hearts, sundried tomatoes, proscuitto, basil, goats' cheese and red onion.
Drizzle over the rest of the dressing, season with sea salt and ground black pepper and pop the top slice of ciabatta on and press down. Wrap in parchment paper and pop into the fridge, pressed down with another baking tray filled with heavy tins, overnight or until you are ready to serve.
Serve in nice hearty slices for the perfect picnic snack.