Quick Fresh Veggie Wrap With Crispy Prosciutto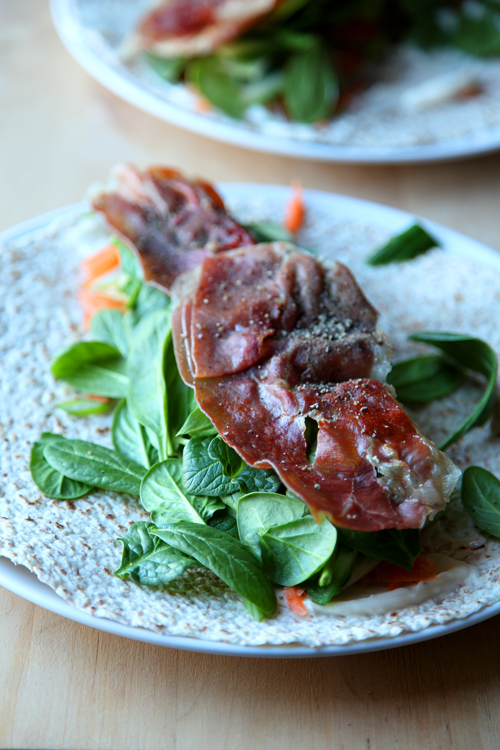 Wraps are extremely handy for a quick and tasty lunch! The best thing is that you can really go wild when it comes to the ingredients. There are so many variations on this recipe which I make regularely, like avocado and bacon, chicken and chickpea, or even tuna and rocket!
Find your favourite combo and experiment. If you can't get your hands on proscioutto just pick up some streaky bacon instead.
Serves 2
6 slices of prosciutto ham
2 large wholemeal tortilla wraps
2 tablespoons of mayonaisse
2 large handfuls of baby spinach leaves
1 carrot, grated
1/4 of cucumber, sliced thinly
5-6 spring onions, sliced thinly
A good pinch of ground black pepper
In a large hot frying pan fry off the slices of prosciutto until crisp and golden.  Remove and set aside on plate with a piece of kitchen paper.
Spread 1 tablespoon of mayo on one of the tortilla wraps.
Arrange the slices of cucumber, carrot, and spring onions down the centre of the wrap.  Add the spinach leaves and then place 3 slices of the crispy prosciutto on top.
Roll up the wrap and enjoy!  Repeat with the second the second wrap.