×
Sign up for my free weekly newsletter!
For meal plans, cooking tips and new recipes...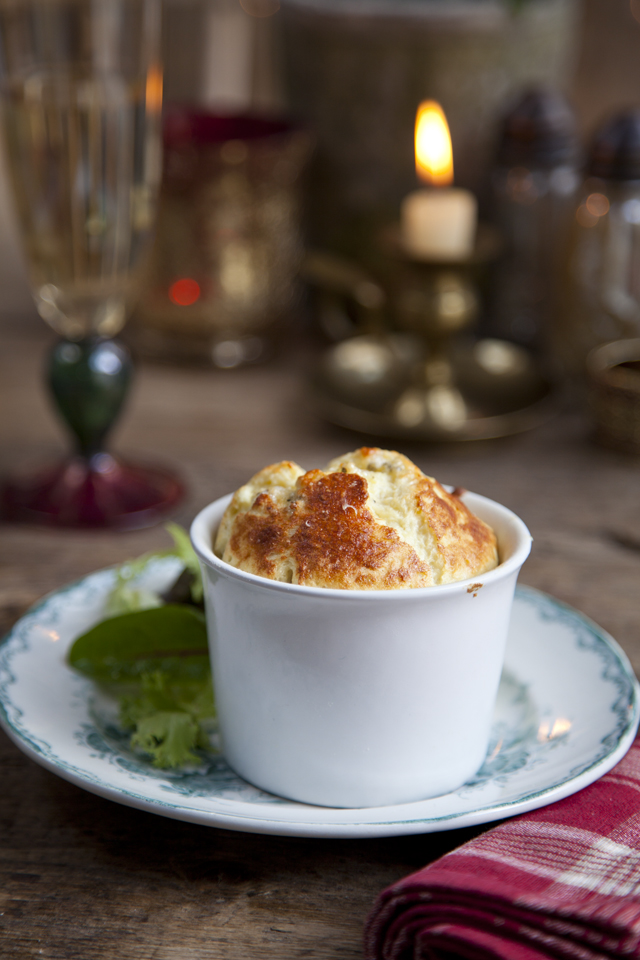 Blue Cheese Soufflés
December 21
These make a very elegant Christmas starter and are quite easy to prepare. You can make these ahead of time and they will puff up again when you place them back in the oven.
40 mins
Serves 6
Method
Preheat the oven to 180°C/350°F/Gas mark 4. Grease and flour 6 ramekins.
Pour the milk into a small pot and add the onion, bay leaf, peppercorns and grated nutmeg. Bring to a steady simmer slowly, then remove from the heat and strain into a pyrex jug.
Melt butter, in a small pot and add the flour to make a roux, whisking until it's comined. Slowly add the warm milk until you have added it all and are left with a thick white sauce.
Transfer the sauce to a mixing bowl. Then whisk in the egg yolks and 3/4 of the cheese. Beat the egg whites until light and fluffy and forming soft peaks. Divide the mixture amongst the ramekins and place in roasting tin.
Pour boiling water around the base of the ramekins and place in the oven for 15 minutes until risen.
Serve straight away in the ramekins or allow to cool slightly and remove from the ramekins and place on a lined baking sheet.
At this point you can keep the ramekins to serve the following day if you wish. Just add a sprinkle of extra blue cheese and place in the oven to puff to puff back up!
Serve with a crisp winter salad!
If you make this recipe, be sure to tag your photo
#DonalSkehan