×
Sign up for my free weekly newsletter!
For meal plans, cooking tips and new recipes...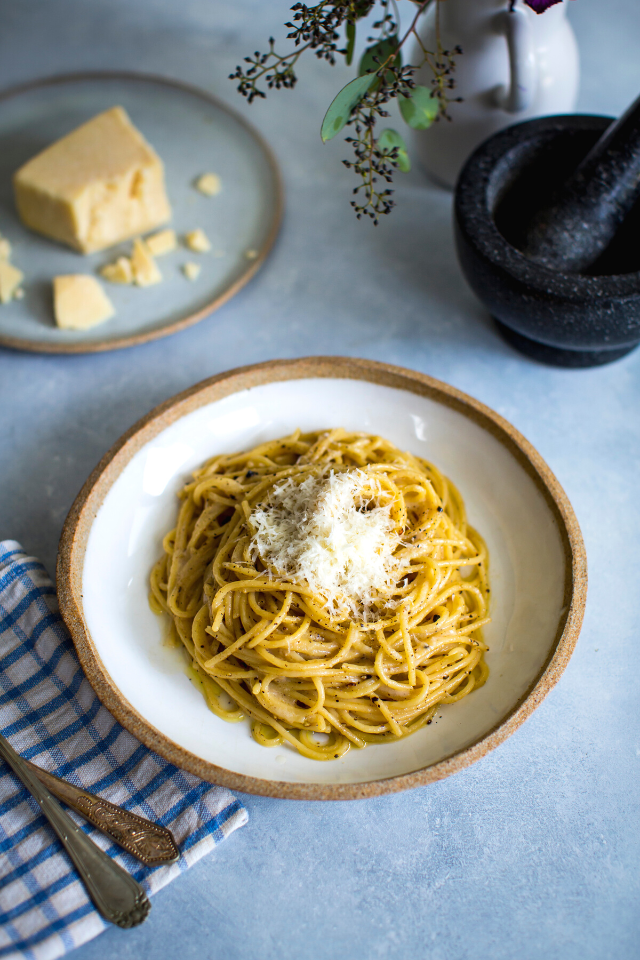 Cacio E Pepe
October 28
Just 3 simple ingredients needed for this recipe, that creates a luscious creamy sauce.
15 mins
Serves 2
Method
Place a large saucepan of salted water over a high heat, bring to the boil and add the pasta and cook according to packet instructions, drain reserving 200ml of liquid.
Toast the peppercorns in a very hot, dry pan until fragrant, then roughly crush using the back of a wooden spoon or bottom of a glass, remove half a teaspoon to scatter over at the end. Alternatively you can crush the peppercorns before frying in a pestle and mortar if you have one.
Add the reserved pasta water and stir to combine. Simmer for a minute until slightly reduced.
Add the drained pasta to this and toss to coat the pasta in the sauce, simmer for a minute or two until the pasta has absorbed most of the liquid. Remove from the heat and stir through the cheese, keeping a little back to serve.
Serve straight away in wide bowls with the remaining black pepper and extra cheese sprinkled over the top.
If you make this recipe, be sure to tag your photo
#DonalSkehan