×
Sign up for my free weekly newsletter!
For meal plans, cooking tips and new recipes...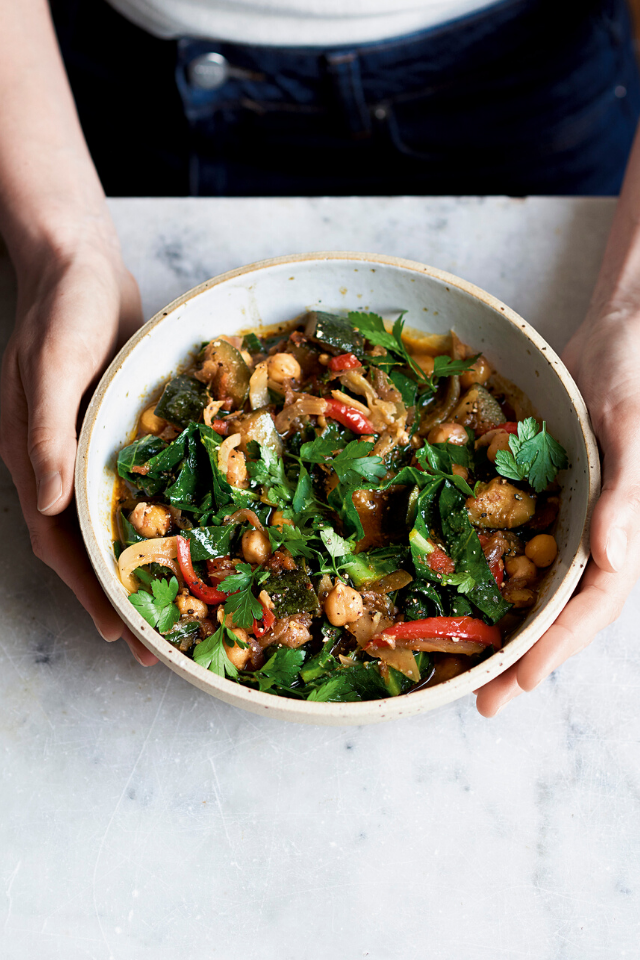 Chickpea & Greens Tagine
January 22
This speedy 'tagine' falls somewhere in between a French ratatouille and a Moroccan tagine. It's a wonderful recipe for using up any stray vegetables that you may find lurking at the bottom of your fridge.
30mins
Serves 4
Method
Heat the oil in a lidded casserole or deep sauté pan. Gently fry the onions over a low heat for 6–8 minutes until softened. Add the ras el hanout and garlic, cook for 1 minute, then add the fennel and courgettes.
Increase the heat to high and cook for 5 minutes before adding the red pepper, tomatoes and chickpeas along with 400ml (13⁄4 cups) water from a just-boiled kettle. Season well, cover and simmer for 15 minutes.
Add the spring greens, cover and cook for a few more minutes until they are just wilted. Scatter with the parsley and serve.
Ingredients
2 tbsp olive oil
2 red onions, thinly sliced
2 tsp ras el hanout
3 garlic cloves, crushed
1 large fennel bulb, thinly sliced
2 medium courgettes, diced
1 red pepper, deseeded and sliced
9oz chopped fresh vine tomatoes
1 x 14oz tin chickpeas, drained and rinsed
7oz spring greens, finely shredded
handful of flat-leaf parsley, finely chopped
2 tbsp olive oil
2 red onions, thinly sliced
2 tsp ras el hanout
3 garlic cloves, crushed
1 large fennel bulb, thinly sliced
2 medium courgettes, diced
1 red pepper, deseeded and sliced
250g chopped fresh vine tomatoes
1 x 400g tin chickpeas, drained and rinsed
200g spring greens, finely shredded
handful of flat-leaf parsley, finely chopped
You'll Need
Casserole or deep sauté pan with lid
If you make this recipe, be sure to tag your photo
#DonalSkehan