×
Sign up for my free weekly newsletter!
For meal plans, cooking tips and new recipes...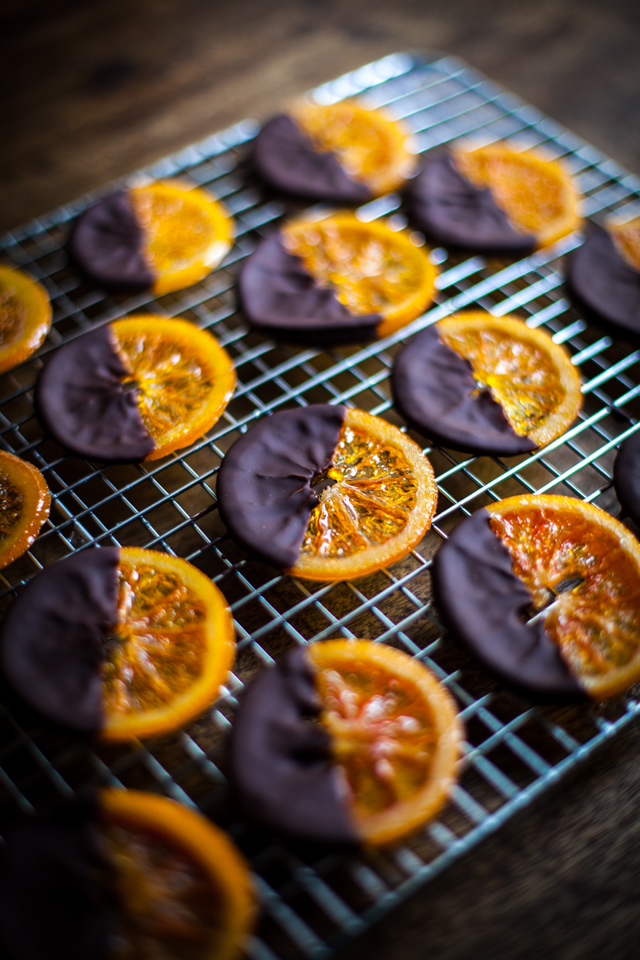 Chocolate Dipped Candied Oranges with Sea Salt
December 06
A simple festive treat that is easily made at home with rather impressive results.
120mins
Serves 8
Method
Bring the water and sugar to the boil in a large heavy-based frying pan, stirring until the sugar dissolves. Thinly slice the blood orange and add to the sugar syrup in a single layer. Reduce the heat to medium-low and barely simmer until the white pith of the orange becomes translucent, turning the slices to cool in the syrup. This should take about 40 minutes in total.
Transfer to a wire rack with a baking sheet lined with parchment paper underneath, gently shaking off any excess and leave to cool and harden for at least a couple of hours or overnight is best
Preheat the oven to 100˚C and put the dried out candied blood oranges into the oven still set on the wire rack over the baking sheet. Leave to dry out for 3-4 hours, turning them half way through. This will help them become crisper but will with a little give.



Melt the chocolate in a heatproof bowl set over a pan of simmering water. Remove from the heat and leave to cool a little, then carefully dip each piece of candied blood orange into the melted chocolate to coat, gently shaking off any excess. Sprinkle with a little sea salt and leave to set on a sheet of parchment paper at room temperature.
Arrange on a plate to serve.

If you make this recipe, be sure to tag your photo
#DonalSkehan