×
Sign up for my free weekly newsletter!
For meal plans, cooking tips and new recipes...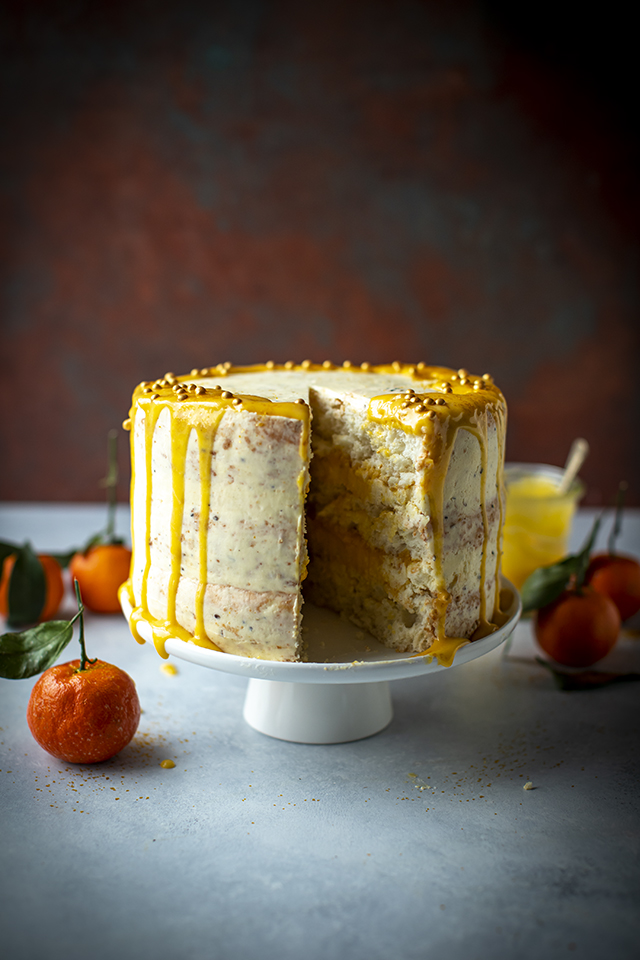 Clementine Spiced Angel Food Cake
December 04
This delicious zingy, spicy festive cake will be the showstopper dessert at the table this season. If you're more organised, you could prepare the curd in advance and feel free to put your own twist on it by swapping out oranges for lemon!
1 hour 15
Serves 12
Method
Preheat oven to 160c. Grease and line the base of 3 20cm sandwich tins with parchment and arrange on baking trays.
Holding back 6 of the egg yolks from separating. Whisk the egg whites with the cream of tartar in a freestanding mixer until soft peaks form. Gradually add the icing sugar while the mixer is still on.
Very gently fold the flour and caster through the egg white mixture using a whisk along with the orange zest. Divide the mixture between the tins, smooth out the surface. Bake for 20-25 minutes until risen and golden.
To make the curd whisk the orange juice, eggs and sugar together in a medium bowl set over a saucepan of gently simmering water. Whisk occasionally for 5-6 minutes until the mixture has thickened. You may need to pass it through a sieve to remove any lumps. Stir through the butter until melted. Set aside the mix to cool completely.
While the bases are cooling, prepare the buttercream filling by bashing the cardamom in a pestle and mortar, discard the shells and crush the beans until fine. Add this and the rest of the ingredients to a freestanding mixer, beating all the ingredients together until it is all incorporated and the mixture is smooth.
Spread a third of the buttercream mixture on each sponge layer. Spread the buttercream evenly across two of the sponges, followed by a few tablespoons of the curd, leaving a few centimetres from the edge. Arrange these on top of each other on a cake stand. Top with the final layer and spread the buttercream across the top and around the edges of the cake. Drizzle the remaining curd around the top edge of the cake, allowing it to drip down the sides. Sprinkle with the edible gold decorations.
Ingredients
12 eggs, separated 
1 tsp cream of tartar 
100g icing sugar 
Zest of 2 large oranges
200g plain flour, sifted 
275g caster sugar 
 For the buttercream:
3 tbsp cardamom pods
300g butter, softened
2 tsp vanilla bean paste 
500g icing sugar, sifted 
Juice 2 oranges 
For the curd: 
Juice 2 large oranges 
6 egg yolks 
100g sugar 
50g butter 
To servee:
Edible decorations
If you make this recipe, be sure to tag your photo
#DonalSkehan