×
Sign up for my free weekly newsletter!
For meal plans, cooking tips and new recipes...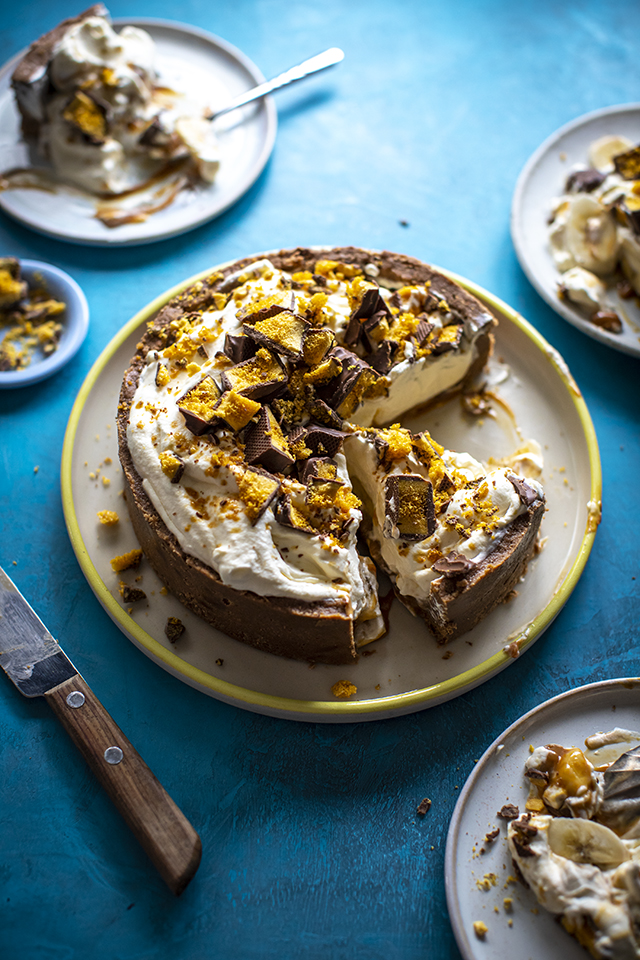 Crunchy Banoffee Pie
November 11
The Kitchen Hero of all desserts! What can make a naughty pie even naughtier? The answer… Crunchie bars!
20 mins + chill time
Serves 8
Method
Grease and line the base of an 18cm round loose springform or loose bottomed cake tin.
Blitz the digestives in a food processor until fine, add to a large bowl with the melted butter and stir to evenly combine.
Add the mix to the tin, then spread the mixture evenly over the base and up the sides. Use a spoon or glass to create even sides and a smooth surface. Leave the base to set in the fridge for about 3 hours until firm. Place on a tray to make maneuvering easier if you like.
When the base is ready, add the caramel, arrange the banana slices on top then take it out of the tin carefully and place on a cake stand or plate.
Whisk the cream using an electric hand mixer or freestanding mixer until soft peaks form. Add the cream on top of the banana and to finish it off, sprinkle the crunchie bar over the top of the cream as artistically as you feel necessary. Cover and chill until you are ready to serve or serve straight away.
If you make this recipe, be sure to tag your photo
#DonalSkehan