×
Sign up for my free weekly newsletter!
For meal plans, cooking tips and new recipes...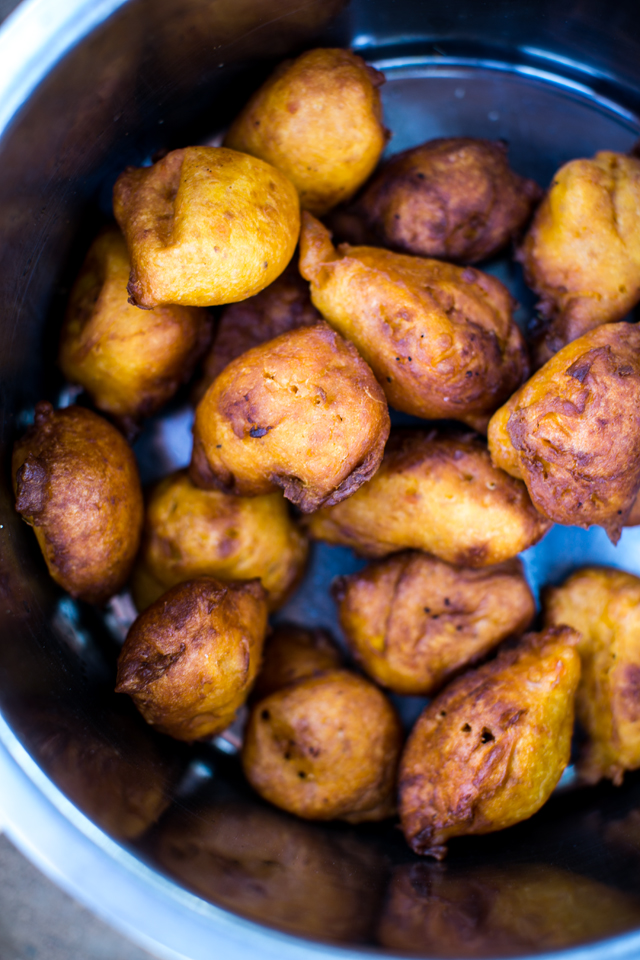 Fishani's Sweet Potato Doughnuts
November 28
Doughnuts are not necessarily the first thing I thought of when I imagined the cuisine of Malawi but these little fritters popped up at most of the markets we visited close to Lilongwe. I was taught how to make them by Fishani Nyirenda and her daughter Winnie Banda. Orange fleshed sweet potato was only recently introduced to Africa as means of dealing with Vitamin A deficiency, it also has a high yield, making it a reliable crop for local farmers.
45 mins
Serves 40
Method
In a large mixing bowl combine the flour, baking powder and sugar. Make a well in the centre and set aside.
Whisk together the eggs and milk and pour into the dry ingredients. Using a wooden spoon, slowly incorporate the wet and dry ingredients until a smooth batter is formed.
Beat in the mashed sweet potato until it's completely incorporated.
The batter should be thick enough to hold its shape when scooped up with a spoon. .


TOP TIP

Depending on the sweet potato you may need more flour until you reach the desired consistency
Heat 5-8cm of oil in a deep wide pot, until it reaches 190˚C/375˚F on a thermometer.
Carefully add generous, heaped tablespoons of the thick batter to the hot oil, making sure not to overcrowd the pot, and fry for 3-4 minutes either side until golden brown and cooked through.
Drain on a plate lined with kitchen paper and repeat with the remaining batter.
Dust with icing sugar and serve warm.

If you make this recipe, be sure to tag your photo
#DonalSkehan