×
Sign up for my free weekly newsletter!
For meal plans, cooking tips and new recipes...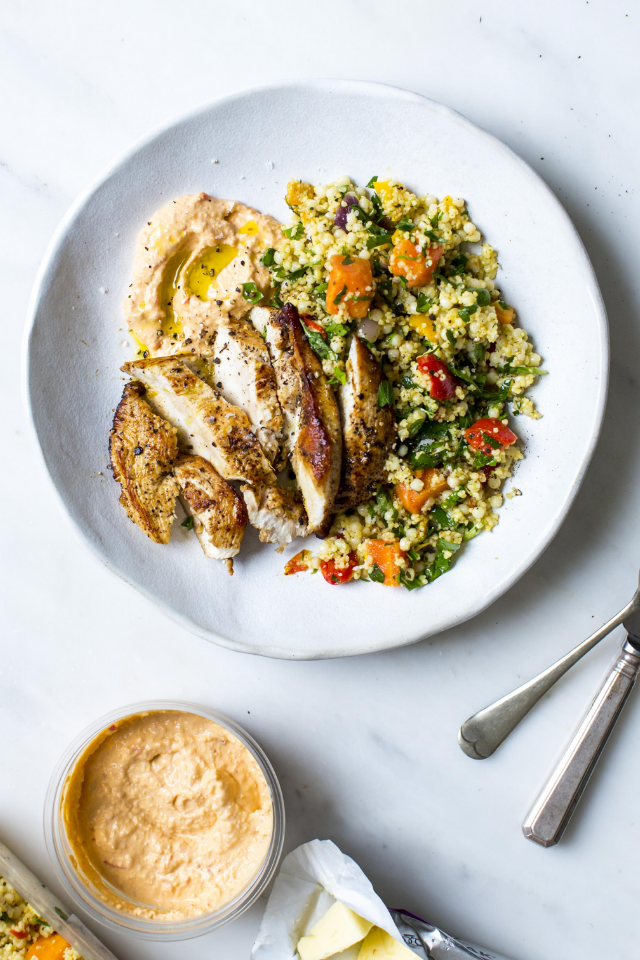 Garlic Butter Chicken with Hummus & CousCous
August 26
This is the recipe that gave me the idea for my cookbook Meals in Minutes – it's the perfect example of a dinner for which the ingredients can be bunged into a shopping basket on the way home from work. Its key cheat ingredients are garlic butter, shop-bought hummus and a couscous salad. You can get some fantastic prepared couscous salads; try one with feta and lemon or Moroccan with sultanas or chargrilled veg – you could even try a cauliflower couscous in this recipe.
Serves 2
Method
First butterfly the chicken breasts: put each one on a chopping board and with the flat of your hand on top, use a sharp knife to slice into the thick side of the breast, being careful not to cut all the way through. Open out the breast and season well on both sides.
Heat the olive oil and garlic butter in a large frying pan and fry the chicken for 2–3 minutes, then turn over, add the lemon zest and fry for a further 3–4 minutes until golden on both sides. Set aside to rest for 5 minutes.
Spread a dollop of the hummus onto 2 plates. Mix the couscous salad with the parsley and a good squeeze of lemon in a bowl and spoon it on top of the hummus. Slice the chicken thinly and pile on top of the couscous. Squeeze over a little more lemon juice, drizzle with extra-virgin olive oil and serve.
If you make this recipe, be sure to tag your photo
#DonalSkehan