×
Sign up for my free weekly newsletter!
For meal plans, cooking tips and new recipes...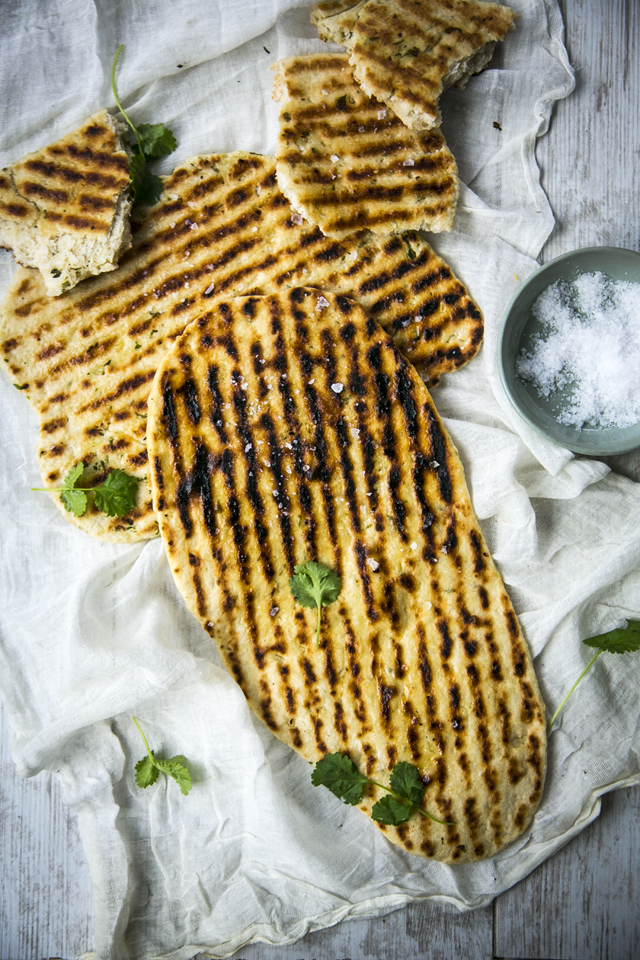 Garlic & Coriander Naan
October 04
Making naan bread at home is a little laborious but worth the effort, especially if you find yourself disappointed by those stiff slippers you buy in supermarkets. If you are going to the trouble of serving up an Indian inspired feast, going the extra mile and making this flatbread spiked with garlic and coriander will only add to the experience. I have suggested a griddle pan to cook the naan, but they work equally well on a hot BBQ.
60 mins
Serves 4
Method
Combine the flour, yeast, sugar, salt in a mixing bowl and make a well in the centre. Whisk together the milk and yoghurt and pour in to the centre. Using a wooden spoon mix together until a rough dough forms.
Place on a light floured work surface and knead in the garlic and coriander and continue to knead for 8 minutes or until smooth and elastic.

Place the smooth dough back in the mixing bowl and cover. Leave in a warm place to rise for 45 minutes.
Knock the dough back and knead gently before dividing into four pieces. Roll each piece of dough out roughly to about 1cm in thickness.
Heat a large frying pan or griddle pan and brush with oil. When almost smoking cook each naan bread until slightly risen and lightly browned on either side.
Keep warm in a low oven until you are ready to serve. Brush with melted butter and a sprinkle of sea salt to serve.
If you make this recipe, be sure to tag your photo
#DonalSkehan