×
Sign up for my free weekly newsletter!
For meal plans, cooking tips and new recipes...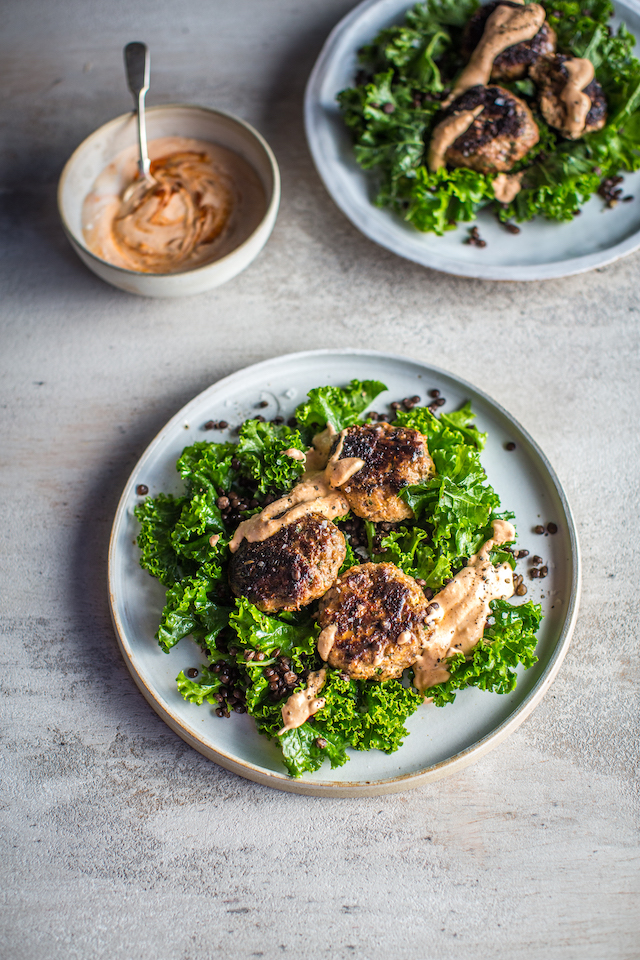 Harissa Lamb & Lentil Salad with Whipped Feta
November 20
If you want you can make this a veggie dish by roasting wedges of butternut squash in place of the lamb.
30mins
Serves 4
Method
In a bowl, mix the lamb mince with the cumin seeds and 2 teaspoons of the harissa paste and the parsley. Season well and shape into 12 small patties.
Heat the olive oil in a frying pan and fry the patties for
2–3 minutes on each side until golden and cooked through.
Meanwhile massage the kale with half the extra-virgin olive oil to soften it. Season with salt and pepper and tip into a bowl. Warm the lentils according to the packet instructions and add to the kale along with the rest of the extra-virgin olive oil, a squeeze of lemon juice and some seasoning.
Whip the feta and yoghurt together with a fork or whisk until creamy. Swirl through the rest of the harissa and season with plenty of black pepper. Serve the lamb patties with the lentils and a dollop of the whipped feta.
Ingredients
14oz lamb mince
1 tsp cumin seeds
1 tbsp harissa paste
2 tbsp chopped flat-leaf parsley
2 tsp olive oil
1⁄2 (7oz) bag sliced kale
2 tbsp extra-virgin olive oil
2 x 9oz packet cooked Puy lentils
squeeze of lemon juice
5oz feta cheese, crumbled
5oz low-fat Greek yoghurt
400g lamb mince
1 tsp cumin seeds
1 tbsp harissa paste
2 tbsp chopped flat-leaf parsley
2 tsp olive oil
1⁄2 x 200g bag sliced kale
2 tbsp extra-virgin olive oil
2 x 250g packet cooked Puy lentils
squeeze of lemon juice
150g feta cheese, crumbled
150g low-fat Greek yoghurt
You'll Need
If you make this recipe, be sure to tag your photo
#DonalSkehan