×
Sign up for my free weekly newsletter!
For meal plans, cooking tips and new recipes...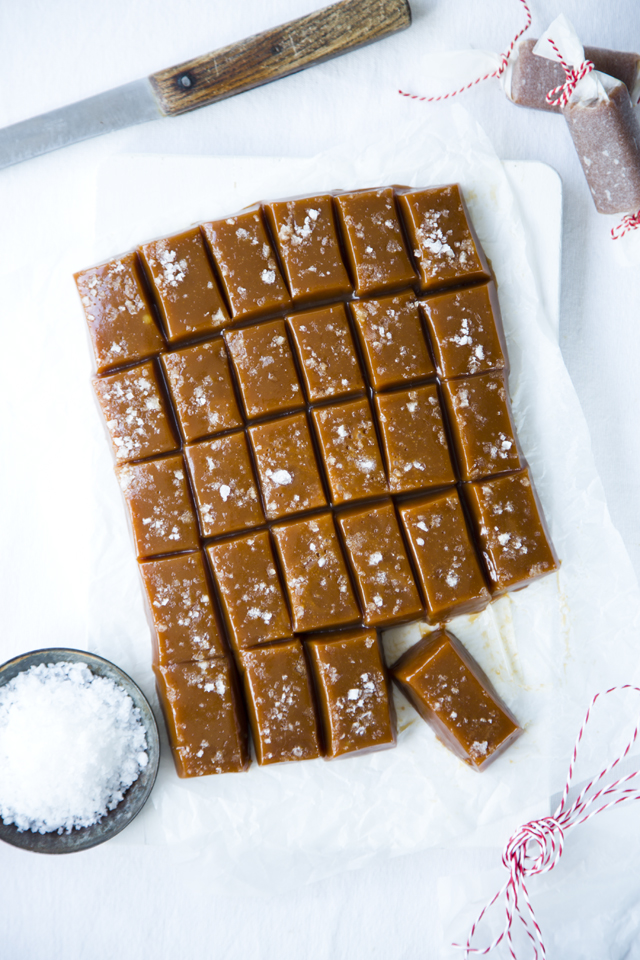 Irish Atlantic Sea Salt Caramels
December 05
Homemade caramels are the ideal edible gift at Christmas time. These ones have a sprinkle of Irish Atlantic Sea Salt which balances and intensifies the caramel flavour. They set to a soft chewy consistency making them fairly irresistible.
60 mins
Serves 12
Method
Grease a baking tin (22cm x 15cm or 9 inch x 6 inch) with a little butter and line with parchment paper. Place the cream, vanilla extract and half the butter in a small sauce pan over a medium high heat. Bring to a steady boil and then remove from the heat and set aside.
In a medium-sized sauce pan, heat the sugar and golden syrup over a medium high heat. Mix together with a wooden spoon until the sugar is completely dissolved. Continue to cook until the mixture reaches 155°C (310°F) on a sugar thermometer. Remove the pan from the heat and stir through the cream mixture.
Place the pan back on the heat and continue to cook until the mixture reaches 127°C (260°F). Stir through the remaining butter until completely incorporated. Transfer the mixture to the prepared baking tin and sprinkle evenly all over the top with sea salt. Allow to cool completely before slicing into individual caramels with a knife dipped in boiling water (this allows it to slice without sticking).

TOP TIP

Wrap each one with parchment paper and they will keep in an airtight container for up to one month.
If you make this recipe, be sure to tag your photo
#DonalSkehan