×
Sign up for my free weekly newsletter!
For meal plans, cooking tips and new recipes...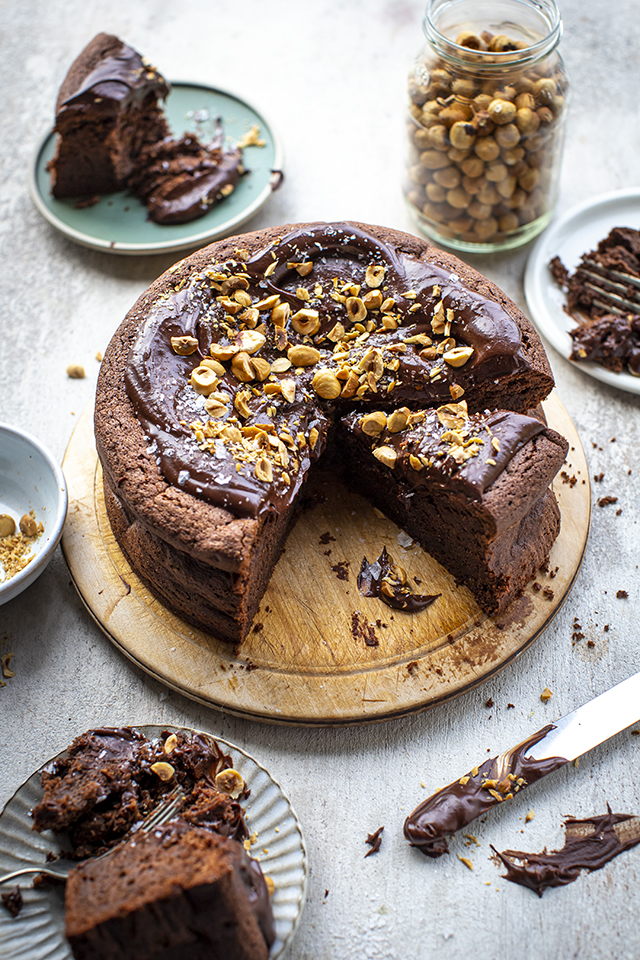 Italian Chocolate Hazelnut Cake
January 08
A gluten free alternative for your weekend bake, spiked with plenty of booze and topped with a velvet chocolate ganache. This is a cake that only improves with age, leftovers last well if not devoured by family members!
50 mins
Serves 12
Method
Preheat the oven to 180c. Grease and line a 20cm round baking tin with parchment paper.
Blitz 175g of the hazelnuts until fine and roughly chop the remaining 25g, set aside.
Melt the chocolate and butter together in a bowl over a saucepan on gently simmering water. Stirring occasionally until fully melted. Allow to cool a little.
Whisk the egg whites until stiff peaks form. In a separate bowl, whisk the yolks with the sugar until light and fluffy and mix through the chocolate along with the frangelico.
Gently fold the egg whites and ground hazelnuts into this and then pour into the prepared baking tin.
Place onto a tray and then in the oven for 40-45 minutes until fully cooked. Allow to cool in the tin for at least 30 minutes before removing.
When almost cool, make the ganache. Place the chocolate and butter in a medium sized bowl and then into the microwave for 30 second intervals until melted. Whisk in the icing sugar, double cream, frangelico and salt until smooth.
Once cool, top with the ganache and sprinkle with the remaining hazelnuts and sea salt.
If you make this recipe, be sure to tag your photo
#DonalSkehan