×
Sign up for my free weekly newsletter!
For meal plans, cooking tips and new recipes...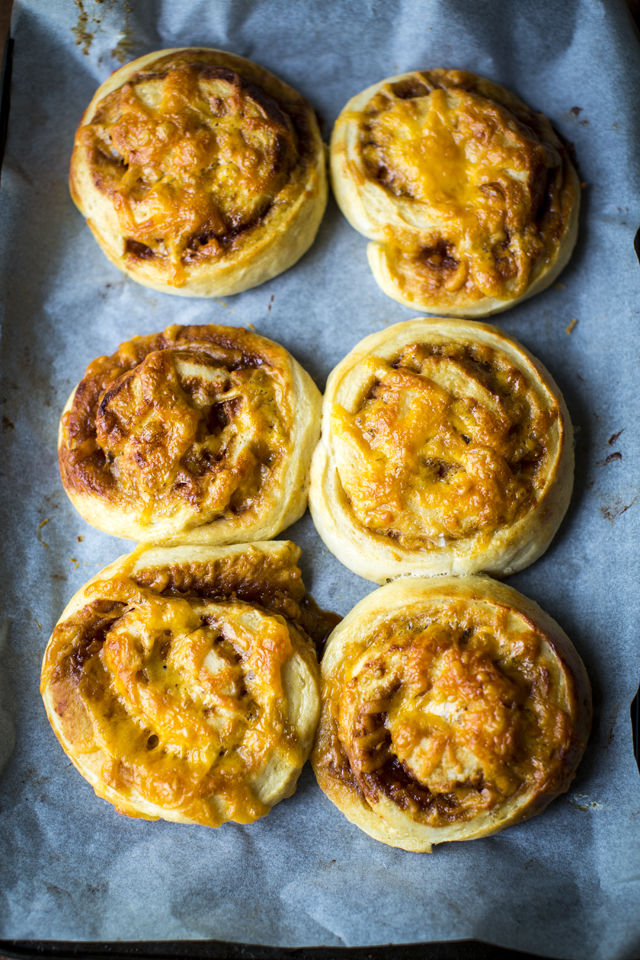 Marmite and Cheddar Rolls
September 14
Marmite's intoxicatingly savoury dark paste is the key ingredient to these pinwheel breakfast rolls. Kept moist and pillow like from the addition of mashed potatoes and topped with a generous sprinkle of mature cheddar cheese, they are a real treat.
120 mins
Serves 18
Method
Preheat oven to 200˚C/ 400˚F/ Gas Mark 6.
Cook the potatoes in salted water and drain, reserving 2 tablespoons of the cooking liquid. Mash the potatoes very well or press through a fine sieve into a basin, then cover and keep warm. Cream the yeast in a bowl with the reserved tepid potato liquid and a spoonful of the sugar, and mix well as it froths up.
Sift the flour into a large mixing bowl with 1 teaspoon salt and rub in the butter. Make a well in the centre and add the rest of the sugar and the mashed potatoes, mixing well.
Add the tepid milk and 75ml water to the yeast liquid, mix and add to the mixing bowl, then beat in the beaten egg. Knead very well, cover and leave in a warm place for about an hour, until doubled in size. Once risen, punch the dough down and roll out on a clean work surface to a large rectangle rough 1cm in thickness.
While the dough rises, in a small bowl mix together the butter and marmite until combined.
Spread the marmite and butter mixture evenly over the surface of the dough, leaving a 1cm gap at the edges. Sprinkle over two thirds of the grated cheddar and roll away from you to create a long sausage shape. Cut into 18 slices and place onto a tray lined with parchment paper, cut side up, leaving at least 3cm between each roll.

Loosely cover with cling film and leave to prove for another 30 minutes. Brush with the beaten egg, sprinkle the remaining cheddar on top and bake in the oven for 15 minutes until risen and golden.
If you make this recipe, be sure to tag your photo
#DonalSkehan