×
Sign up for my free weekly newsletter!
For meal plans, cooking tips and new recipes...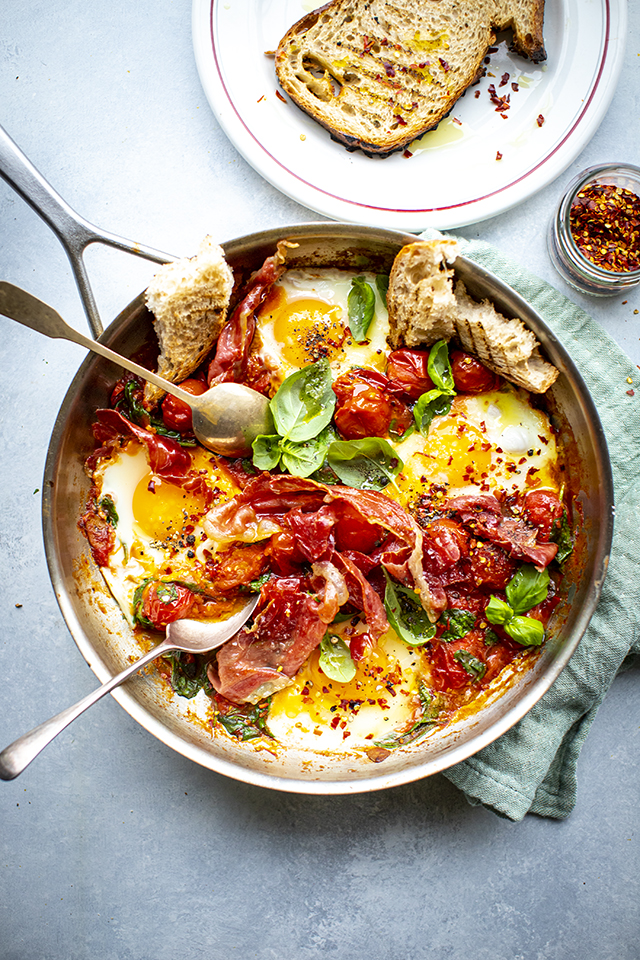 One Pan Tomato Breakfast Eggs
March 18
A glorious pan of all my favourite things for breakfast. Sweet tomatoes are softened in the pan until juicy and bursting, providing the ideal flavour base for eggs to cook out until the yolk is just runny. Scooped onto sourdough toast, it's a real treat for a weekend brunch.
50 mins
Serves 2
Method
Heat a tablespoon of olive oil in a heavy based, large sauté pan over medium heat and fry the prosciutto until crisp. Remove and set aside.
Add a little more oil and fry the garlic until just the golden before adding the chilli flakes and tomatoes. Sauté for 25-30 minutes until the tomatoes are catching colour and beginning to burst. Halfway through this, begin to mash half the tomatoes, this will create a sauce. Simmer until the sauce thickens a little, season to taste and then add the spinach. Cook for 5 mins more until completely wilted.
Using the back of a spoon, create four little wells and then crack an egg into each. Simmer gently for 8-10 minutes until the white of the eggs begin to set. Arrange the prosciutto amongst the eggs.
Serve straight away while still hot with sourdough toast, plenty of sea salt and black pepper and garnish with basil leaves.
If you make this recipe, be sure to tag your photo
#DonalSkehan