×
Sign up for my free weekly newsletter!
For meal plans, cooking tips and new recipes...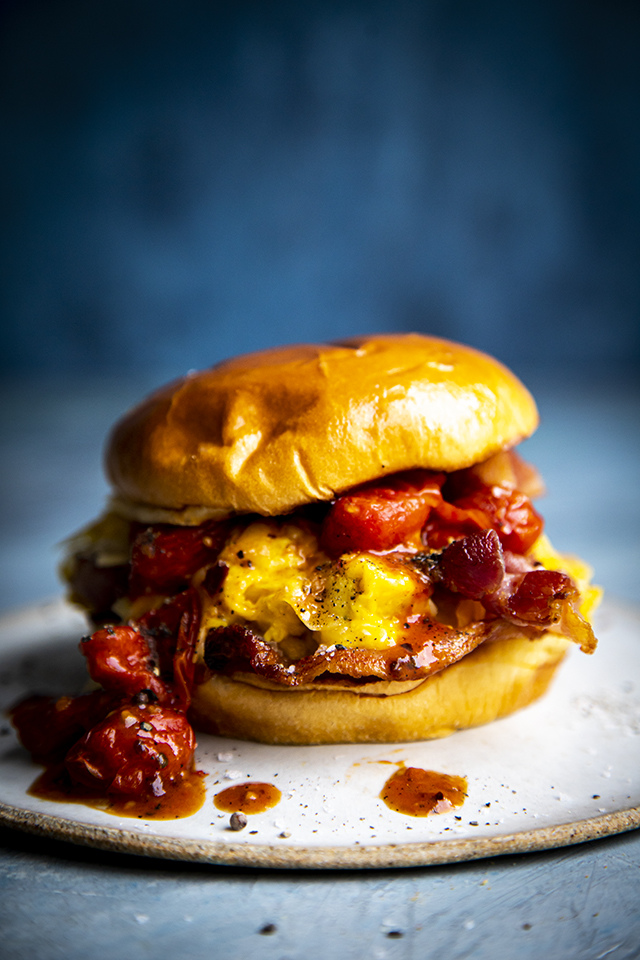 Sofie's Birthday Breakfast Sandwich
May 20
Birthdays in our house always begin with breakfast in bed. Even before kids came along to steal half of it, this little tradition is something special that we manage to keep up year after year. My speciality is this breakfast sandwich which is riduculously simple and indulgent in equal measures. Eggs, bacon and tomatoes in a bun- it's a real treat. Don't skimp on the buttery brioche buns without them it's simply not worth it.
Serves
Method
Heat a large frying pan over a medium high heat and add a splash of olive oil. Add the tomatoes and thyme to the pan once hot and give it a generous season of sea salt and ground black pepper. Leave to simmer for 15 minutes, stirring occassionaly until they reduce and just about hold their shape- they should be saucy and jammy.

For the scrambled eggs, melt a good knob of butter in a small non-stick frying pan over a medium high heat. Whisk the eggs in a bowl with a generous pinch of salt and pepper. When the butter foams, pour the eggs into the pan and using a spatula, working quickly, lift and fold the set eggs into the runny and continue until you have soft velvety strands that are still ever so slightly runny. If you you're using the cheese, fold through at this point until melted.

Toast the brioche buns and place on a serving plate. Top with bacon, eggs and a generous dollop of the jammy hot tomatoes. Repeat with the second set of toasted buns.
Serve immediately and devour- one bite optional!

If you make this recipe, be sure to tag your photo
#DonalSkehan