×
Sign up for my free weekly newsletter!
For meal plans, cooking tips and new recipes...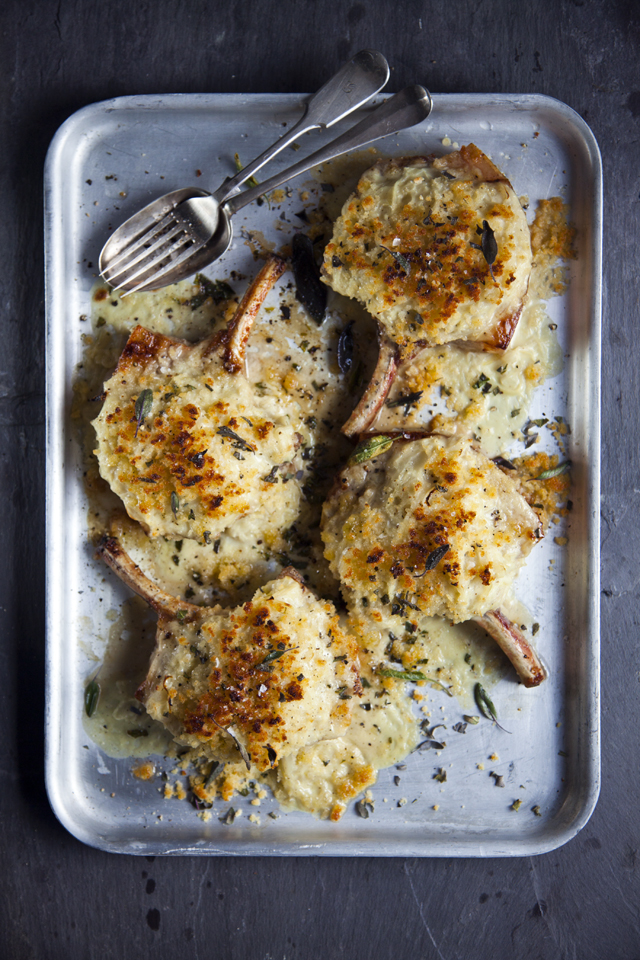 Stuffed Pork Chops
July 15
It is from the Irish that the word 'griskin' comes, meaning the best part of the loin. Some idea of the usefulness of the pig is given in this extract from The Irish Journals of Elizabeth Smith, 1840–50, of Baltiboys House,Blessington. Recipe from The Pleasures of the Table: Rediscovering Theodora Fitzgibbon.
November 20th, 1842
'A present from old Peggy, the back griskins of her pig … it will be the most delicious bacon ever cured, but all the comfort that so small a weight of consumable material will give, the skin for a sieve, the lard for kitchen and the bones for soup, the blood for puddings, and the inmeats, a week's dinners, it will be a very merry Christmas …'
45 mins
Serves 4
Method
Trim the chops and take out the small piece of bone, then put onto a grilling pan and dust with black pepper. Peel and slice the onions into a saucepan, just cover with water and bring to the boil, then simmer for 10 minutes.
Drain, but reserve the liquid. Heat the butter in another pan, then add the onions and sugar, and cook until they are quite soft. Beat with a fork to purée them.
Add the flour and let it cook for a minute, then add the warm milk and enough of the onion liquor to make a thickish sauce. Season well, then add the cream.
Grill the chops well on one side only, transfer cooked side down into a roasting pan and cover the tops with the onion sauce. Sprinkle breadcrumbs on top, then a dot of butter and pepper.
Put into a hot oven at 210°C/425°F/Gas Mark 7 for about 20 minutes or until the top is crisply browned. If liked, the chops can be grilled in the usual way and the sauce served with them, but the crispy topping above is very good.
If you make this recipe, be sure to tag your photo
#DonalSkehan