×
Sign up for my free weekly newsletter!
For meal plans, cooking tips and new recipes...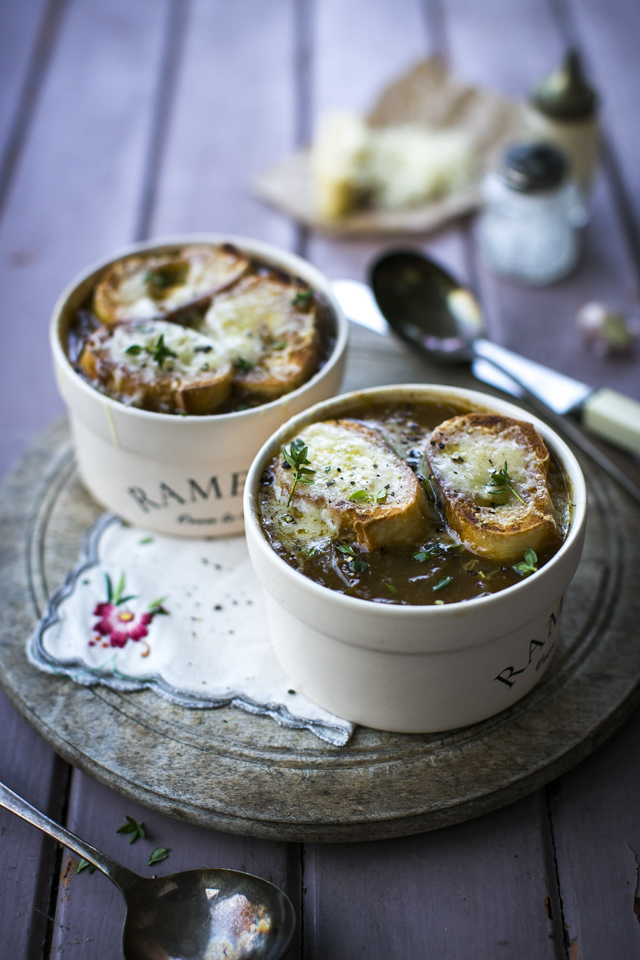 Thyme & Gruyere French Onion Soup
December 12
A true French classic that is wonderfully satisfying to make at home.  This recipe always conjures up a memory I have of being bundled into a Parisien cafe by my mother to hide from the dark and wet weather outside. At the back of a thickly carpeted room with plush red velvet curtains I got my first taste of this comforting soup.
60 mins
Serves 4
Method
Heat the butter in a large casserole over a medium heat and add the onions. Season with sea salt and cook gently, stirring frequently until they are a rich dark brown colour- this can take up to 30 minutes so have patience.
Stir in the flour and thyme until the flour is evenly combined. Season with sea salt and ground black pepper. Pour over the stock and cover.
Cook gently for about 30 minutes. Stir through the brandy and check the seasoning.
Meanwhile, lightly toast the bread under a medium grill, remove and rub all over with the garlic clove. Ladle the soup into oven proof bowls set on a heavy baking sheet, place a slice of bread in each one and place a mound of grated cheese in the centre of each one. Place under a hot grill until the cheese is melted and golden.
If you make this recipe, be sure to tag your photo
#DonalSkehan