Rediscovering The Irish Kitchen…
Tonight my new Irish TV series begins on RTE One.  It's a seven part series celebrating the history of Irish cooking, using recipes and methods from an older generation.  It was one the most interesting series to shoot as I got to try my hand at lots of different techniques like making black pudding, baking in a pot over an open fire and even milking a cow.  In each episode I visit people to speak about their memories of Irish food and in this first episode I meet Michael Gill, owner of one of Ireland's most successful publishing houses.  Michael published many of Ireland's most well known cookery books and has a great knowledge on the subject.


One of the real highlights of filming the series was getting to shoot at the Muckross Traditional Farms in Killarney, Co. Kerry, a truly spectacular part of the country.  It was there I learned from the Bean An Tí's (Woman of the house) classic Irish recipes for black pudding, Irish soda bread, and techniques like how to make butter and how to separate milk and cream.  I also got my hands dirty learning how to plant potatoes and in tonight's episode you will get to see Nealy (pictured below) show me how to milk a cow.
In each show I cook through recipes from Pleasures of the Table: Rediscovering Theodora Fitzgibbon, the book I released earlier this year.  It has a great selection of traditional Irish recipes which were fascinating to cook through on screen, but I also used some of her other recipes with foreign ingredients which she would have had access to in her Irish kitchen during the 1970's and 80's.   The recipes in the first episode are a fine demonstration of this, Michael Gill cooks a classic French Onion Soup using a rather unconventional ingredient which Theodora swore by.  I cook a simple roast rib of beef with batter puddings, an Irish version of the traditional Yorkshire pudding.  Using the milk and cream I manage to get my hands on I also cook a comfort food classic, rice pudding with poached rhubarb and orange syrup.  You can find all the recipes from the show below and make sure to tune in at 8.30pm on RTE One tonight and every Tuesday night during the summer.
– RECIPES –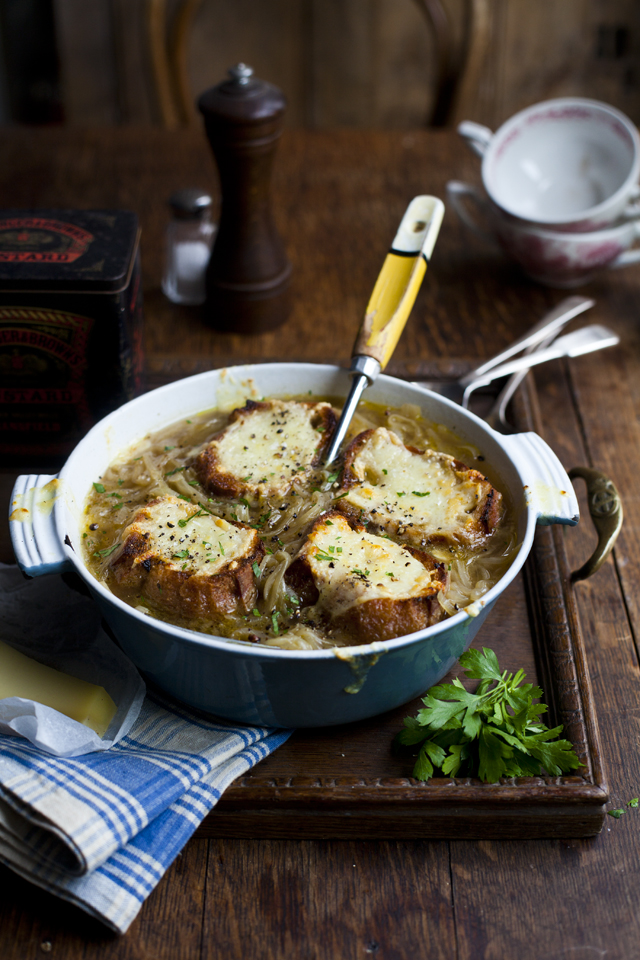 { Roast Rib of Beef with Batter Puddings… }