Semlor (Swedish Cream Buns)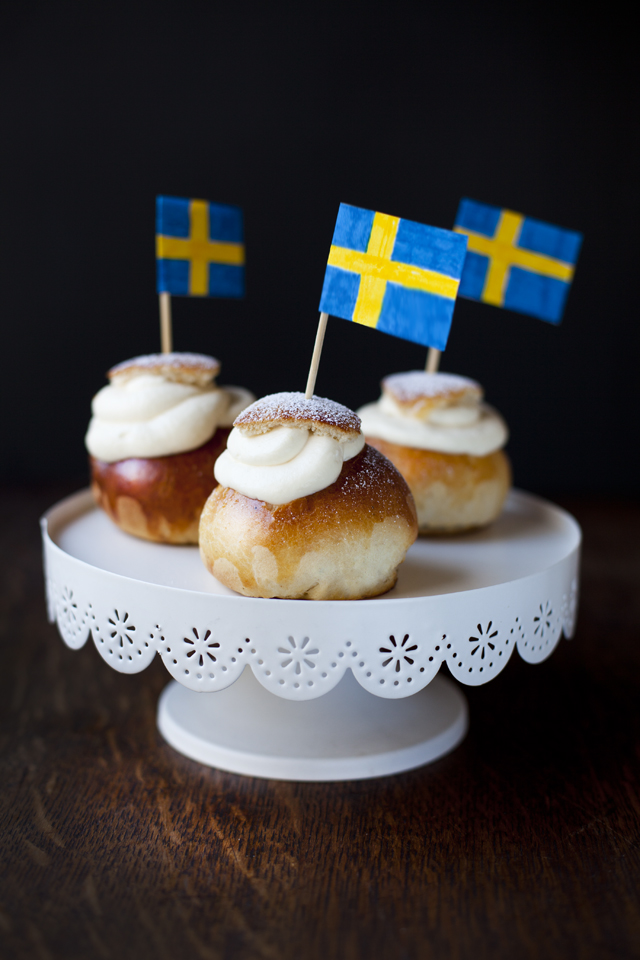 Semlor or cream buns are incredibly popular in Swedish bakeries. Traditionally they are eaten on pancake Tuesday know as fettisdag or Fat Tuesday in Sweden. During winter taking a break for "Fika" the Swedish word for taking a break from the day to enjoy some coffee, tea and something sweet would normally include one of these cream and almond paste filled sweet buns.
Makes about 18 buns
700g plain flour
140g caster sugar
A pinch of salt
2 teaspoons of freshly ground cardamom
350ml milk
2 x 7g sachets of dried yeast
150g salted butter, softened
1 large free range egg
Almond paste:
250g of skinless, blanched almonds
225g caster sugar
A few tablespoons of milk
A little icing sugar to dust
750ml double cream, whipped
Melt the butter in a large saucepan and pour the milk in, heat until lukewarm. Mix in the yeast.
In a large bowl mix together the flour, sugar, salt, and the cardamom. Make a well in the dry ingredients and mix in the wet ones along with the egg. Bring a dough together and knead on a clean floured work surface for 4 minutes. Place back in the bowl and cling film and a tea towel and leave to prove in a warm, dark place for 45-60 minutes or until the dough has doubled in size.
Preheat the oven to 190°C. Turn the dough out onto a clean work surface, divide the dough into 18 pieces (80g each) and roll each into a ball. Put the buns on a baking sheet lined with parchment paper. Brush the buns with a little beaten egg or milk and bake in the centre of the oven for about 10 minutes. Leave to cool on a wire wrack.
Prepare the almond paste by blitzing the almonds and caster sugar in a food processor. Then add a few drops of milk until you have thick smooth paste. Place in the fridge to firm up and become solid.
Cut a triangle out of the top of each bun and scoop out some of the insides, to make a small hole for the filling. Save the breadcrumbs in a mixing bowl. Grate the almond paste into the breadcrumbs and bring together a creamy paste using a few tablespoons of milk. Fill the buns with tablespoons of the filling and then pipe whipped cream on top.
Place the the tops back on, dust the buns with icing sugar and serve.