September Update!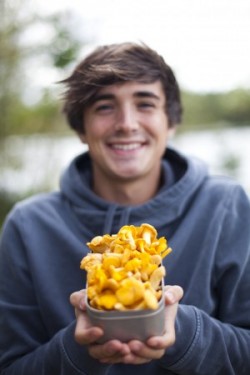 Hi folks,
I can't quite get my head around the fact that we are smack bang in the middle of Autumn.  Where did this year go?  While long sunny summer evenings are more like a distant dream that never really happened, worry not as there are so many food related things to get excited about this harvest season.
For those who like to forage for their food, now is the one of the best times to get out and in to the forest and hedgerows to pick wild mushrooms and fruit.
I spent a few days in Sweden recently where we picked the most incredible giant golden chantarelle mushrooms, super green apples (perfect for an oat buttery apple crumble) and the juiciest plums, eaten right off the branches.
Since my new book came out in May, we have had a wonderful reaction with it spending quite a few weeks on the Irish Non-Fiction Bestsellers list peaking at number 2! A big thank you to everyone who has sent me photos on twitter and Facebook of the dishes they have been cooking from the new book "Kitchen Hero: Great Food For Less".  It might sound ridiculously obvious but seeing people cooking the recipes you write is always the most rewarding thing about writing a book.
Lots of people have been asking me on twitter, when the next part of the TV series Kitchen Hero: Great Food For Less is coming out and I can tell you that it will be back in November for a 7 week run on RTÉ One.  There are lots more wonderful cheap and delicious recipes coming up to inspire you to get cooking in the kitchen, with visits to my grannies kitchen, my old school, BLOOM in the park and lots more.
One of the main reasons I've been a little quiet online this summer, has been due to a very exciting project which we filmed in London throughout August which will air this Autumn.  I'm literally bursting to tell everyone about it but I've been told I have to wait just a little longer.  Don't worry you'll be the first to know! 🙂
There's also lots of exciting news overseas, where Kitchen Hero has now been released in both Swedish and German and the TV series has started airing in Brazil and France.  In July, I spent a day in Hamburg shooting with German magazine, "Fit For Fun", for their October issue, they really did a lovely job and were great to work with.  I'm also going to be heading back to Stockholm in October to appear again on one the popular breakfast shows, "Nyhetsmorgon" speaking Swedish (hold me!) and to give cookery demonstrations at the "Hem Och Villa" exhibition.
Check out some of the things I'm very excited about this month below and keep checking the blog for updates!
Until then have a great September!
Donal x

Check out some of the new recipes on the website I'm excited about right here: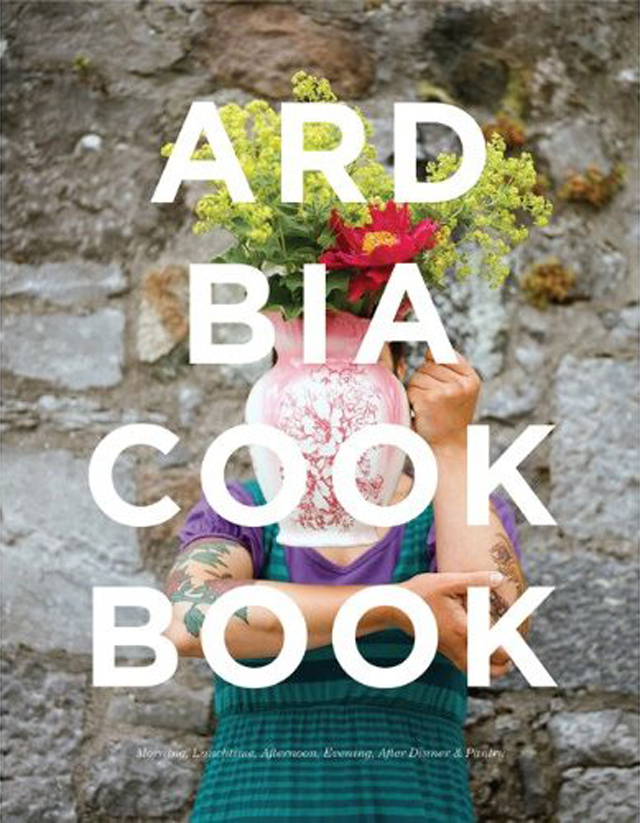 Ard Bia Cookbook – Aoife Carrigy & Aoibhean Mac Namara
It's not often that a restaurant cookbook can capture the essence of it's location, diners, and wonderful food all in the same book.  But that is exactly what Aoife Carrigy and Aoibheann Mac Namara have managed to do in writing the Ard Bia Cookbook.  While I've only eaten at Ard Bia @ Nimmos in Galway city, just once before, the moment you step into that old stone building on the river Corrib, you know it's a special place.
Cosiness and comfort are a big part of eating there, with old wooden tables, exposed brick walls, mismatched cutlery and plates, and a delicious menu to match, you could happily spend an entire day there.  To reflect just this, the book is split into five chapters winding you through the day, from Breakfast, Lunch, Afternoon, Evening and After Dinner featuring recipes like buttermilk and poppy-seed pancakes, torn lamb shoulder with sumac, pomegranate and Jerusalem artichoke purée and winterberry and ginger pudding with homemade custard.
One of the true highlights of the book however is in the sixth and final chapter simply entitled Pantry which features recipes for a collection of interesting storecupboard ingredients like pickled rhubarb, elderflower syrup, rose salt, smoked paprika and orange oil, and tips and techniques for perfect baking, selecting meat, cheese and seafood and a lovely run down of herbs and spices.  This superb collection of recipes will have me referencing it again and again.
The book features some incredibly delicious food imagery which really shows off the super selection of dishes the restaurant has become famous for.  However for me it's the intriguing images of friends and staff of the restaurant holding items like vintage plates, jugs and brown bread, and beautiful hand drawn illustrations, which really steal the show and make this book a keeper.
Available on Amazon.co.uk and all good Irish book shops…
I tend to go through phases where I get a little bit obsessive about certain ingredients or techniques in the kitchen, this month it's all about beurre noissette, chanterelle mushrooms, and za'atar…
Browned Butter (Beurre Noissette)
After my first appearance on Swedish TV in May this year, we ate at "Sturehof" in Stockholm where I had one the best best fish dishes I have ever tasted, Lemon Sole Meuniére.  Technically, of course, it was going to amazing because it was swimming in one of my most favorite things in the world… Beurre Noissette (and a little lemon juice!).  That wonderful thing which occurs when you cook butter in a saucepan until it turns a nutty brown, transforming it into something so comforting and delicious, you may want to dip your whole fist in and lick it clean- Or is that just me?  While it's magic can be used to transform fish into something quite incredible, it can also be used to drizzle over fresh pasta with sage, and to be used in baking to give a wonderfully rich and earthy taste to your creations.
Chantarelle Mushrooms
It happens at the end of most summers, for me, a sudden urge to go out and pick mushrooms from the forest.  But not just any mushrooms, the mushroom that makes you draw a deep breath upon sighting its little golden trumpet peeking out of the moss and fallen leaves, yes the mighty Chantarelle mushroom.  In Sweden they are quite common, and although I have never found any myself in Ireland I know they are there.  In fact I think this year I'm on a mission to find some.  Not only for the pure excitement of finding them, but also to enjoy them pan fried with a little butter and served on toasted sourdough bread, possibly the ultimate treat for a hungry mushroom hunter.  If all that foraging sounds like too much hard work, you can get them in some green grocers in Ireland, in season.
Za'atar
A simple blend of fresh oregano, toasted sesame seeds, cumin, sea salt and sumac bashed in a pestle and mortar and you have an instant one way ticket to the middle east.  Za'atar is one my favorite ingredients not only because of it's dark, earthy taste but also because of it's versatility, I've been experimenting with it on homemade flatbreads, roast chicken, and even sprinkled over runny fried eggs on toast for an other worldly breakfast.  You can make it up extremely simply and store it in a jar, in the fridge, for a week or so be used at your leisure.
This year I have been doing a lot of traveling, I've had some really wonderful meals on the way, here are three of my favourite spots home and abroad…
The Dock Kitchen – London
One of the best sunny Sunday afternoons of the summer was spent at "The Dock Kitchen" in London.  It's a proper little gem, located near Ladbroke Grove with incredibly inspiring food and a wonderful atmosphere.  I've been following head chef Stevie Parle, on twitter, since it began as a pop up restaurant a few years ago.  It has since become a permanent feature and rightly so, the menu is fresh and totally mouthwatering.  So much so that I had to insist that everyone got something different so we could all try more!  My favorite dish was chargrilled Iberico Secreto with a crunchy romanesco sauce and greens, delicious!
The Cake Cafe – Dublin
We had a visitor staying with us this summer from France and one of the highlight meals we had out, was a lovely breakfast in one of my favorite cafe's in Dublin, "The Cake Cafe".  It's a very cool little cafe nestled at the back of the Daintree Paper Shop on Camden street, and has one of the best, if not one the coolest breakfasts Dublin has to offer.  Although my favorite homemade beans on toast wasn't on the menu that day, we were more than happy to try the creamy baked eggs with toasted doorstep white bread soldiers and pancakes with a sweet and tangy rhubarb compote, all happily served on vintage plates which is always a win in my books!
Cafe Habana – New York
I had plenty of memorable meals in New York City including one at the amazing "Momofuku", when we were there early this summer, but if I had to choose just one it was the AMAZING, and I don't say that too lightly, grilled Mexican corn on a stick oozing with cheese, chilli and coriander at "Cafe Habana" in Soho!  In some of the hottest weather New York had to offer this summer, hot and sticky, cooled down by frozen mojitos, we guzzled it all down followed by a round of seriously amazing taco's.  Totally relaxed and easy eating with very cool diner style tables, I'll be going back for the corn!

There's lots of exciting food blogs out there at the moment, but these are two of my favourites, which I really love:
Roost
These days with so many food blogs, there are only a few that really stop you in your tracks and blow you away.  When I came across Caitlin's Roost blog a couple of weeks ago, I had to say goodbye to the rest of my morning, because I literally went through each and every post, drooling over the wonderful imagery and videos.  It's quite refreshing to find a blog that is different like Caitlin's- she manages to capture effortless eating while celebrating the simple things in life just perfectly.  Dishes like grilled summer squash and peach salad with manchego and white truffle, brown butter strawberry cake and cinnamon roll almond flour doughnuts will have you coming back for more.  Caitlin is already working on a cookbook which is due to come out next year, you can be sure it will be on my bookshelf when it does.
Call Me Cupcake
Considering my love of all things Swedish, I was so thrilled to come across this beautiful baking blog from Stockholm based Linda Lomelino.  The dark and moody imagery makes the perfect setting for the most show stopping cakes and bakes you can imagine.  The blog is conveniently both in English and Swedish and things like raspberry cheesecake brownies, perfect espresso chocolate cupcakes, chocolate and caramel cheesecake will make you fall instantly in love.  Linda released her first book, "Lomelinos Tartor" in Swedish earlier this year and I managed to pick up a copy last week in Gothenburg.  It doesn't disappoint and has an incredible selection of showstopping cakes.  Unfortunately it's not in English just yet but if you fancy deciphering Swedish you can order it from her blog.