September Update!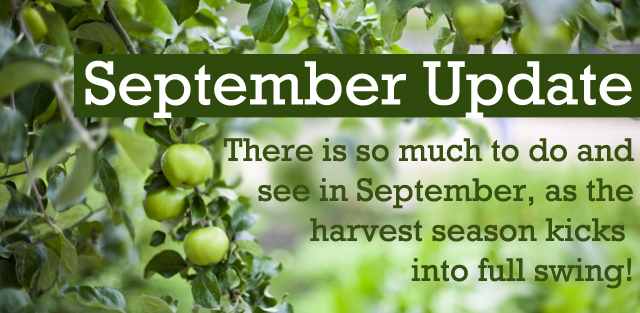 Hi Folks!
Can you believe it's already September? Where did that summer go?!  Anyway it's back to business here at Kitchen Hero towers and with Autumn sneaking up on us so quickly there is already lots to look forward to this harvest season.
In this month's newsletter, everything is bigger and better, I've compiled a long list of things to do, see, cook, try, watch and read.  If you have any suggestions you'd like to add by all means leave a comment below and let me know!
I will also be giving quite a few cookery demonstrations this month, you can find the list below and I would absolutely love to see you at one of them, come along and say hello!
I have also included a hit list of just some of the in season veggies to make the most of throughout September, there are plenty of recipes to use them on the website.
The new season of Kitchen Hero is also back every Monday on RTÉ One at 8.30pm, you can find more details about it below and make sure to follow the episode guide on the website for all the recipes from the show.
Last but by no means least, I am very excited to announce that this month I am making my debut in Delicious Magazine in the UK with a whopping 11 page spread dedicated to first time cooks.  Make sure you head out and pick up a copy, it's only brilliant! 🙂
Happy September!
Donal x
I will be giving cookery demonstrations at the following locations throughout September:
3rd of September- Electric Picnic on the Earth Ship Stage
7th Of September- Waterford Harvest Festival
8th of September- Harvey Nichols Dundrum
17th of September- UCC Food Fest
25th of September- Ballyknocken Cookery School
28th of September- Kitchen Dresser.ie 10 Year Anniversary

Sheridans 50 Mile Food Festival
On the grounds of an old railway station, Sheridans Cheesemongers headquarters in Carnaross, Co. Meath, makes the ideal setting for their fantastic 50 mile food festival, which invites stalls offering food which has been grown or produced within a 50 mile radius.  If you are searching for a truly authentic Irish food festival you most certainly won't go too far wrong by attending this one.  Along with an extensive list of high quality stall holders there will also be free workshops covering food related activities from bread making to growing your own veggies.
4th of September, Carnaross, Co. Meath
Waterford Harvest Festival
The Waterford Harvest Festival takes place over 9 fun filled days between the 3rd and the 11th of September with lots to see and do.  There will be cooking demonstrations throughout the duration of the festival from Catherine Fulvio, Martin Shanahan and one from me!  The festival is a true celebration of local food and there will be workshops, guided food tours and a full food market every day to keep everyone full and happy!  The event will also host one of the largest GIY gatherings to date, with harvest inspired cooking demonstrations from the grand dame of Irish cooking, Darina Allen.
3rd – 11th September, Co. Waterford
Galway International Oyster Festival
This year marks the 57th Galway International Oyster & Seafood Festival, and this years event looks set to be the best yet.  With lots to do and see including, the National Oyster Opening Championship, cookery demonstrations, a festival parade and lots of activities for families, you won't be left disappointed.
23rd – 25th September, Co. Galway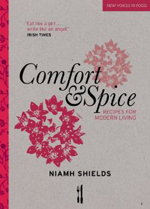 Comfort and Spice by Niamh Shiels
I was lucky enough to meet the uber talented Niamh Shiels, last month and managed to get a sneak peek at her debut cookery book, Comfort and Spice.  Niamh is from Waterford but has managed to position herself as one of the most popular and prominent food bloggers in the UK.  Her book is part of a fantastic new series of cookbooks published by Quadrille, which celebrates the talents of new voices in food.  Comfort and Spice showcases Niamh's unique, deep-flavoured and often eclectic recipes which regular readers of her blog Eat Like A Girl will be familiar with.  The book offers advice and recipes for a wide range of people, from novices just beginning their journey in food, all the way up to seasoned cooks, who are just looking for a kick of heat and inspiration in their dishes!
Available on Amazon.co.uk and all good book shops…

Mic's Chilli Inferno Sauce
I managed to pick up a bottle of Mic's Chilli at the most recent Sheridan's Food Festival in May and am a complete convert!  I have to admit to being a bit of chilli wuss and wasn't actually able to bring myself to try the extreme version of the inferno range which also offers a light version and a junior version, so I happily settled with the intermediate version.  Use a drop in scrambled eggs, whip up a batch of nacho's or use it in my buffalo chicken sauce, either way, if you like heat you won't be disappointed!
You can see a full list of stockists throughout Ireland on their website.
Kitchen Hero
The new season of Kitchen Hero is back this Autumn, with even more delicious and simple recipes to get you cooking in your kitchen.  There is lots to look forward to, with episodes including a Sunday dinner where I cook for my mom and grandmother, talk about pressure!  Food for a crowd where I get roped in to appear on stage, at a panto in Dublin, and end up cooking for the cast on the stage of the Tivoli theatre.  Before all that, the first episode back is a last chance at a spot of summer cooking, as I cook some delicious BBQ treats, including spatchcocked chicken and the most tender sticky spare ribs!  Set your telly boxes, Kitchen Hero is back!
Kitchen Hero: Monday nights, 8.30pm on RTÉ One
Crackbird, South William Street, Dublin
Crackbird was one of Dublin's first and widely celebrated pop up restaurants which set up shop in Temple Bar earlier this year after a unique online campaign using twitter.  It has now become a permanent fixture at the top of South William Street and has fans flocking (see what I did there?) all over the country.
The idea behind this eatery is simple, addictive chicken, served in buckets with a choice of sauces, funky salads, refreshing drinks like lime and ginger fizz served in a retro jam jar.  It has been compared to a gourmet version of KFC, but personally speaking that comparison really does it no justice.  Yes, I suppose Crackbird has made it socially acceptable to chow down on buckets of chicken, but that is where any comparison ends.  It's the fantastic range of different flavour combinations in the sides and salads department, which goes beyond the call of duty for what you might expect from a restaurant which serves up fried chicken.  Salads like red cabbage, pomegranate and lime, and sweet potato, paprika bacon and pecans will leave your taste buds wanting more.
On our visit we ordered both the Soy Garlic Chicken and the Buttermilk as there has been much online discussion as to which one was better.  For me the buttermilk chicken was the winner, crispy and tender and the perfect base for trying out the great range of dips on offer including, burnt lemon and whipped feta, chermoulla and my favourite the Japanese mustard.  If you haven't been yet, it is well worth a try, but be careful because as the name suggests, that bird is addictive!
Blackberries
Hedgerows throughout Ireland will be teeming with these rough and ready fruits which are ripe for the picking this month.  Best thing about blackberries apart from them being beautifully juicy and perfect for sweet dishes, is that they are free!  Grab a basket and some spare children (cheap labour!) head out and pick as many as you can.  Use them in baking, whip up a big batch of jam or stick in bags in the freezer perfect for blending up in a smoothie.
Tomatoes
While I am still awaiting the epic turn of colour from my ridiculously stubborn green tomatoes in the garden, August and September is one of the best times to make the most of Irish grown tomatoes.  Roast them, enjoy them with slices of mozzarella and big healthy leaves of basil in a tasty caprese salad, or make a big batch of homemade tomato sauce, for that last taste of summer.  If like me you are faced with the curse of green tomatoes, don't be defeated, there is always next year and lots and lots of chutney!
Beetroot
Beetroot for me is the veggie that just keeps giving.  Easy to grow most of the year, highly nutritious and eaten raw or cooked with love and care, they are earthy and delicious. My favourite way with them is to chop off their leaves, roast them with a drop of oil, in a tray covered with tin foil at about 180 degrees for 45 minutes until they're tender, when pierced with a skewer.  Take them out of the oven, let them cool, then peel the outer skin off gently with a spoon and if you don't want pink hands, wear a pair of rubber gloves.  Your roasted beets can then become the stars of chunky salads with goats cheese and toasted nuts, the perfect accompaniment to roast meat or blitzed into a bright pink borscht.
Apples
The Irish apple season is well underway and now is the time to try and pick up some, locally grown.  My memories of Irish apples have always been that of cooking apples, which although too sour for most peoples tastes, make the perfect ingredient, for homely apple pies, buttery crumbles, and sticky apple cakes.
There are lots of recipes on the website to make the most of the new season, check out some of my favourites right here:
Rustic Apple and Blackberry Galettes
These are one of my favorite little autumnal desserts, because they are really easy and make you look like a baking genius, when, realistically all you do is make some pastry and fill it with apples and blackberries. No messing around with blind baking, pie tins, or fancy latticing here, this is a no fuss dessert which you have to serve with cream or, even better, a soft scoop of vanilla ice cream!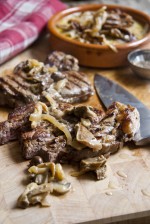 Simple Steaks with a Rich Mushroom Sauce
Depending on the dried mushrooms you buy, you can use the water you soak them in as part of the stock added in this recipe- Simply substitute half the beef stock with the mushroom water.  If you don't have dried mushrooms, they are not essential but give a real depth to the sauce, so feel free to substitute with any fresh mushrooms available to you.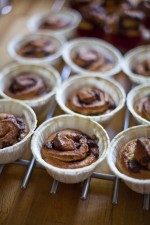 Dark Chocolate Swirl Buns
This recipe is based on my Swedish cinnamon buns from my first book Good Mood Food and shows just how adaptable the base recipe actually is. The dough is a fantastic sweet bread dough, which can take many different flavour variations in the filling. Try adding summer berries, chopped walnuts or lemon curd to the butter filling to mix it up!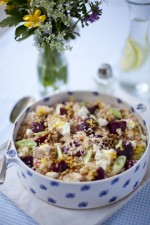 Zingy Beetroot, Feta Cheese, Cous cous Salad
You could use any roast vegetable here really, but I particularly love the combination of the earthy beetroot and the spiky feta cheese.  I use cous cous which is incredibly easy to prepare, but you could also try using bulghur wheat which is a healthier alternative and just as easy to prepare.

To celebrate Kitchen Hero being back on our TV screens, there will be be personally signed copies of Kitchen Hero and Good Mood Food available right here on the website.  If you know any budding Kitchen Heroes out there then this is the perfect gift for them!  For more details and to order a copy head over to the books section…
If there is anything you would like to see featured in next months update leave a comment below or drop me an email…