Simple Steaks with a Rich Mushroom Sauce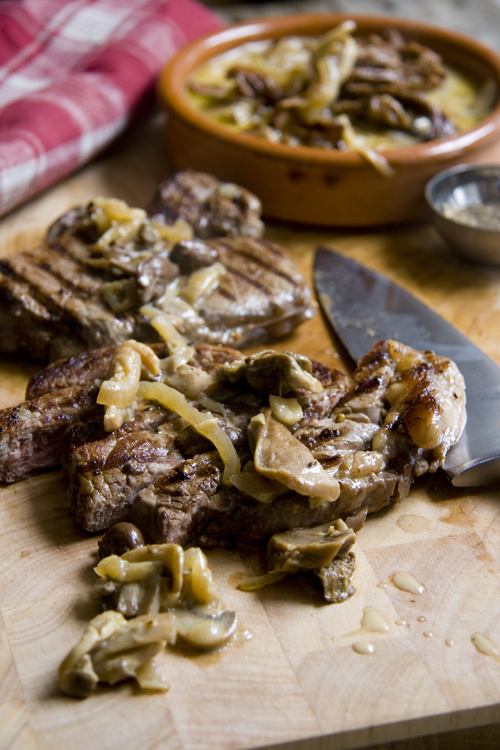 Depending on the dried mushrooms you buy, you can use the water you soak them in as part of the stock added in this recipe- Simply substitute half the beef stock with the mushroom water. If you don't have dried mushrooms, they are not essential but give a real depth to the sauce, so feel free to substitute with any fresh mushrooms available to you.
Serves 4 people
40g of dried mixed forest mushrooms
4 steaks
1 tablespoon of butter
1 tablespoon of olive oil (plus a little extra for the steaks)
3 cloves of garlic, roughly chopped
1 onion, thinly sliced
250g of button mushrooms, sliced thinly
125ml of white wine
250ml of beef stock
4 tablespoons of cream
A good pinch of sea salt and freshly ground black pepper
Rinse the dried mushrooms with water and then submerge in a bowl with warm water and leave for 20 minutes. Prepare the steaks by drizzling them with a little olive oil, sprinkle over a generous amount of ground black pepper, cover and set aside.
When the dried mushrooms have finished soaking, heat a large pan over a medium high heat and add the butter and olive oil. Fry the garlic and onion for 2 minutes, then add the mushrooms and continue to cook for 5 minutes or until they become soft.
Add the white wine, continue to cook and reduce the liquid by half. Then add the beef stock and simmer for a further 2 minutes or until the liquid begins to thicken slightly.  Remove from the heat and whisk in the cream until combined.  Season with sea salt and black pepper and set aside.
Heat a large griddle pan over a high heat and cook the steaks for 2-3 minutes either side for medium rare steak, depending on thickness.
Remove the steaks from the pan and allow to rest for at least 5 minutes.
Serve them with the tasty mushroom sauce and some steamed veg.