Sofie's Rocket and Feta Cheese Bread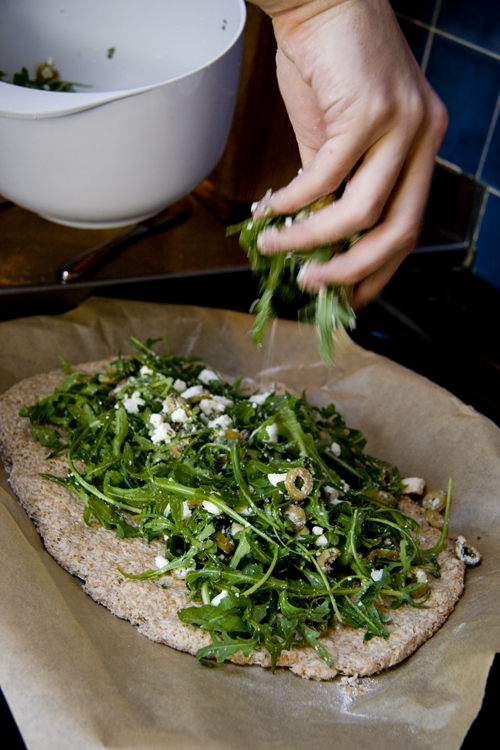 This is a really healthy tasty bread with a really different filling. It makes a fantastic addition to any picnic basket and is wonderfully moist.
Makes 1 large loaf
3 x 7g sachet of dried yeast
2 teaspoon salt
1 tablespoon of honey
600ml lukewarm water
125g oat flakes
Approx 500g wholegrain flour
2 large handfuls of rocket
200g feta cheese
A good handful of fresh herbs of your choice.
A good handful of green olives roughly chopped.
Put the yeast in a bowl, and mix it with the salt and honey, add half of the water and let the yeast dissolve. Allow the mixture to sit for 10-15 minutes or until it has become frothy. Add the rest of the water and mix the oats and flour into the bowl. With a wooden spoon, combine the ingredients until a dough forms. Sprinkle 1-2 tablespoon of flour over the dough and leave it for an hour and a half. While the dough is rising, in a bowl mix together the rocket, feta, herbs and olives.
Preheat the oven to 225°C and dust a baking tray 30x40cm with flour. Turn the dough out onto a floured work surface and divide in two. Roll out both halves into equal shaped oval pieces. Put the first piece on the baking tray. Sprinkle the rocket, feta cheese, herbs and olives evenly over the dough. Gently put the second piece of dough over the filling and squeeze the edges so that they are sealed.
Place the bread in the oven for 30 minutes or until it is nicely browned. When the bread is cooked leave it to cool on a wire rack before serving.