Spanish Fried Eggs with Chorizo and Potato Hash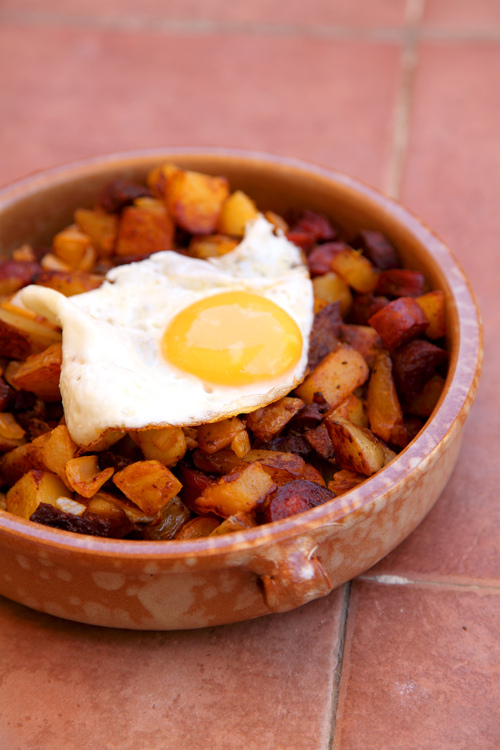 If you wanted to serve this chorizo and potato hash as a little tapas style dish, simply leave out the egg. This recipe would also make a hearty breakfast!
Serves 4
6 medium sized potatoes
150g of chorizo sausage, cut into bitesize chunks
1 onion, chopped
Juice of 1/2 lemon
Sea salt and ground black pepper
4 eggs
Place the potatoes into a pot of boiling water and simmer for 15 minutes or until tender when pierced with a fork. Drain and place in a bowl of cold water until cool, drain again, slice into chunks and set aside.
Heat a frying pan over a high heat and add in the chorizo, frying until sizzling and bright red. The chorizo should render out a rich red oil which you can fry the potatoes and onions in.
Remove the chorizo from the pan and set aside on a plate.
Fry the onion in the pan in the chorizo oil for 3-4 minutes until soft. Remove from the pan and set aside with the chorizo.
Add in the potatoes and fry for 5-6 minutes or until crisp and golden. You may need to add a drop of oil into the pan if you don't have enough.
Add the onions and chorizo back into the pan, add a squeeze of lemon juice and season with sea salt and ground black pepper.
Remove the hash from the pan and place in a serving plate.
Add another drop of oil to the pan and fry the eggs until the white has set but the yolk is still soft and runny.
Serve the eggs on top of the hash and dig in!