Spicy Sichuan Chicken Salad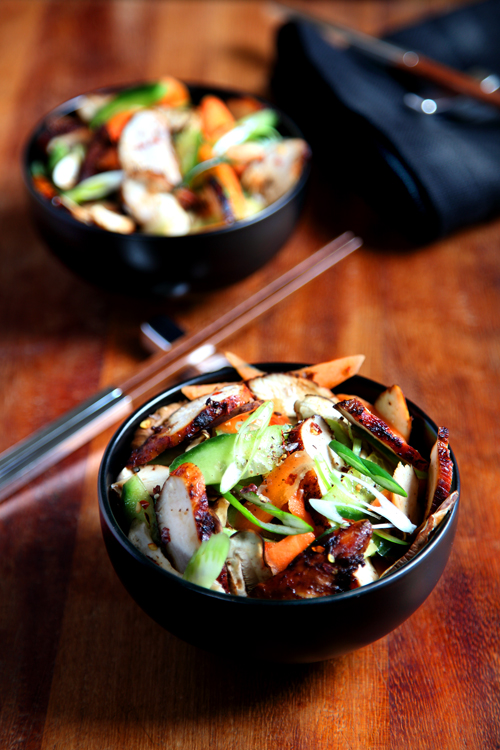 A lot of Chinese dishes can be heavy going but this spicy Sichuan chicken salad, is light, bright and crisp. To get the best aromatic flavour out of the Sichuan peppercorns, toast them in a hot oven for a few minutes, allow them to cool and grind in a pestle and mortar.
Serves 2
2 chicken breasts
1 tablespoon of soy sauce
1 small thumb sized piece of ginger, grated
1 clove of garlic, minced
1 tablespoon of sunflower oil
4-5 spring onions, sliced finely
1 stick of celery, sliced finely
5 shitake mushrooms, stalks removed and sliced finely
½ cucumber, sliced finely
1 large carrot, sliced finely
1 teaspoon of soy sauce
½ teaspoon of sesame oil
2 teaspoons of lime juice
1 teaspoon of honey
½ teaspoon of ground roasted Sichuan peppercorns
½ teaspoon of sea salt
½ teaspoon of dried chilli flakes
Toss the chicken in a bowl with the soy sauce, ginger and garlic.
Heat the oil over a medium high heat in a large frying pan and add both chicken breasts.  Cook for 3-4 minutes either side or until cooked through.
Remove the chicken from the pan, slice thinly and set aside.
Place the chicken slices in a large mixing bowl and toss together with the rest of the ingredients, until everything is evenly coated.
Serve the salad in delicious high piles and sprinkle with a little extra Sichuan pepper and sea salt.