Swedish Gravadlax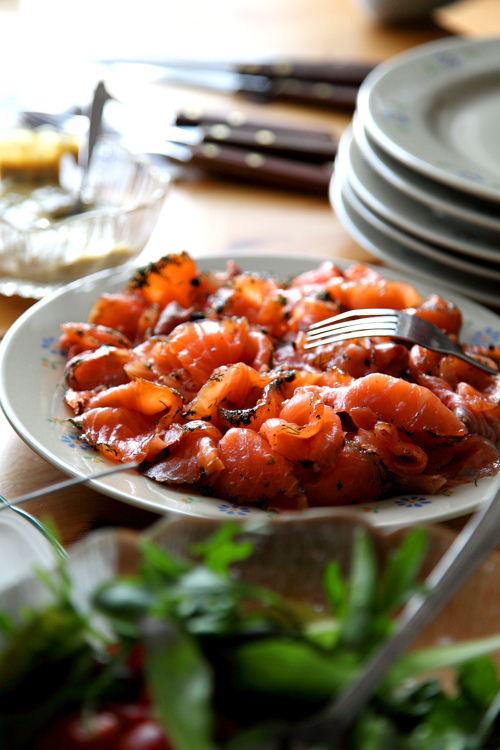 Gravadlax is truly a thing of beauty, and although quite different in taste, is what I like to think of as Sweden's answer to our delicious smoked salmon! It sounds quite complicated but I'm here to tell you that isn't the case and you can produce this seriously impressive dish with a minimal amount of hassle! The man I bought the fish from actually suggested using honey instead of sugar as he said it produces a slightly different taste, but it's up to you!
Serves about 12 portions
2 halves of salmon fillets
2 good handfuls of fresh dill, roughly chopped
6 tablespoons of sea salt
10 tablespoons of caster sugar
2 tablespoons of freshly ground black pepper
In a bowl combine the dill, sea salt, caster sugar and ground black pepper corns.
Roll out a large piece of cling film and sprinkle the base with 1/3 of the dill mixture.
Place one side of the salmon skin side down on the dill mixture and top half the remaining mixture.
Place the last fillet on top flesh side down and sprinkle with the remaining dill mixture.
Wrap the salmon tightly with the cling film and give it an extra layer if you need to.
Place the wrapped parcel in a high sided dish and weight it down with a plate and some full cans or whatever heavy item you have to hand.
Leave the salmon to cure in the fridge for up to 5 days turning half way through. The dish will fill with juices but don't be too concerned about draining them until you are ready to serve.
When you are ready to serve, remove the package from the dishes and wipe clean of the juices.
Separate the sides and slice thinly with a large knife.
Serve with freshly boiled potatoes and a side salad.