Temple Street launches 'The Great Irish Bake' Campaign 2011!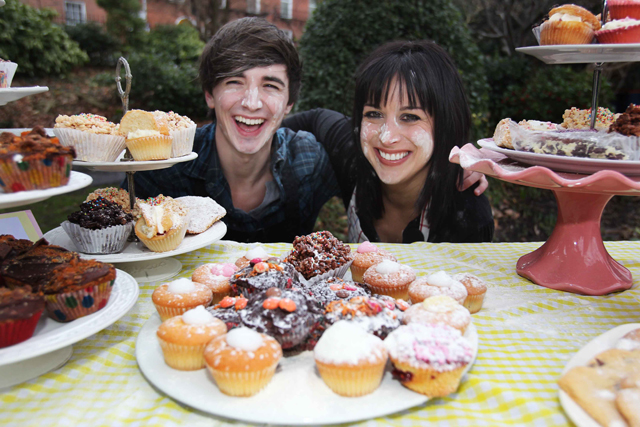 One of the great things about what I do means that from time to time I get asked to become involved in different work for charities.  A few weeks ago, I got the chance to take a tour around Temple Street children's hospital to see the amazing work they do and what exactly the money they fund raise for actually does.  What hit me the most is the sheer cost of everything, one piece of vital equipment can cost over and above 50,000 euro and they are in constant need of new pieces as technology improves and changes.  Everyone I spoke to was really dedicated to what they do and how they do it, a fantastic family atmosphere can be felt throughout the building and that in itself is really positive and very encouraging.  The campaign itself is all about baking and I am so excited about something that I know gets kids excited and involved in!
Check out the official press release below, read more on The Great Irish Bake Facebook and website and make sure to get baking, organising your very own bake sale and raising money for this really fantastic and inspirational cause! 🙂
Temple Street launches 'The Great Irish Bake' Campaign 2011
Proudly sponsored by Gem Pack Foods
Don your apron, grab your whisk and get ready to 'Bake a Difference' as Temple Street Children's University Hospital launches the 3rd annual 'Great Irish Bake' Campaign proudly sponsored by Gem Pack Foods.  This year, Temple Street  and Gem want this national fundraiser to go even bigger and are hoping to raise €100k to go towards purchasing life saving pieces of equipment for the hospital.
'Baking a Difference' is simple when you know how. Simply log on to www.thegreatirishbake.ie where you will find hints, tips, recipes and much more! Register online to participate in this great cause and start baking and selling your tasty treats in work, school or college. The Great Irish Bake Campaign has proven to be a big hit with companies who gather together their very own baking committees to bake and sell at morning coffee breaks. To date, thousands have been generated for Temple Street through companies alone.
You can also become a fan of  'The Great Irish Bake' facebook page where you can  keep up-to-date- on the latest baking news, exchange recipes and tips with fellow bakers, send Temple Street pictures of your creations and fundraising events to be uploaded to the page and let us all know how much you have raised. Search for 'The Great Irish Bake' on Facebook to become a fan.
Donal Skehan (Ireland's answer to Jamie Oliver!) is this years Great Irish Bake Ambassador and has created 4 recipes for the campaign which will be released over the course of 2011 to encourage people to roll up their sleeves and 'Bake a difference' for Temple Street. "I've seen first hand the importance of having life saving equipment at Temple Street. Baking for such a good cause is not only simple and inexpensive but it's also a lot of fun! I urge everyone to give baking a go and raise as much as possible for Temple Street!" said Donal.
For every Gem ingredient used in Donal's recipes, Gem will place a donation sticker on these products with 5c per pack sold going directly to Temple Street. Sales & Marketing Director at Gem, Bobby Mulligan said "Temple Street Hospital is an extraordinary place that does fantastic things for children all around Ireland everyday. As an Irish Brand we are delighted to have the opportunity to work with our customers and the keen bakers of Ireland in generating funds for life saving equipment for Temple Street".
"We are absolutely delighted to be in partnership with Gem for this coming year. Gem is dedicated to our cause and is enthusiastic about generating significant funds for the hospital.  Temple Street believes that every child deserves access to the very best treatment and equipment available. With the support of Gem and people nationwide we are hoping to raise funds to ensure that the children in our care have the best possible chance of getting better. I sincerely hope that everyone will get behind this fun and worthwhile campaign and bake a difference for Temple Street" said Denise Fitzgerald, CEO Fundraising, Temple Street Children's University Hospital.