White Chocolate Ginger Cheesecake Pots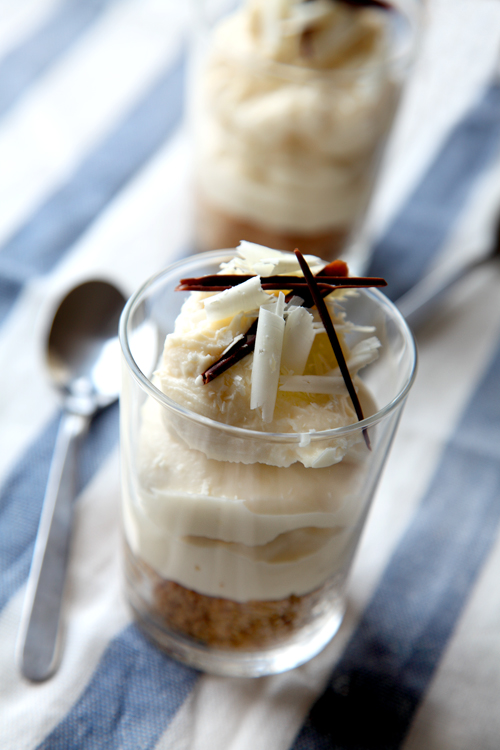 Desserts that can be made ahead are lifesavers when it comes to entertaining and ones which only take a few minutes to put together are even better! These individual cheesecake pots are perfect to pull out of the fridge at the end of a meal and with an extra kick from the ginger your guests will be singing your praises!
Serves 6
200g of gingernut biscuits
100g of butter, melted
1 teaspoon of ground ginger
450g of cream cheese
200g of white chocolate
100ml of cream
1 teaspoon of vanilla extract
1 tablespoon of icing sugar
Blitz the biscuits in a food processor until you have fine breadcrumbs.  Pour in the melted butter and ginger and process until everything is mixed through. Gently push the biscuit base into individual serving pots and set aside.  Don't press down too hard as you want nice loose spoonfuls of biscuit with the cheesecake mix.
Slowly melt the white chocolate in a bowl over a small pot of simmering water. Put the cream cheese in a large mixing bowl and add the white chocolate, cream, vanilla extract, and sugar. Beat all the ingredients together until you get a nice light mixture. Spoon the cream cheese mix into the serving pots, smooth the top and garnish with a sprinkling of thinly sliced white chocolate. Place in the fridge until you are ready to serve.